Bayeux German Wespe SPG wreck
The Wespe 105mm self propelled artillery gun was based on a modified Panzer II chassis and was deployed in Normandy 1944 to give artillery support for the German infantry and tank regiments fighting the invading Allied armies.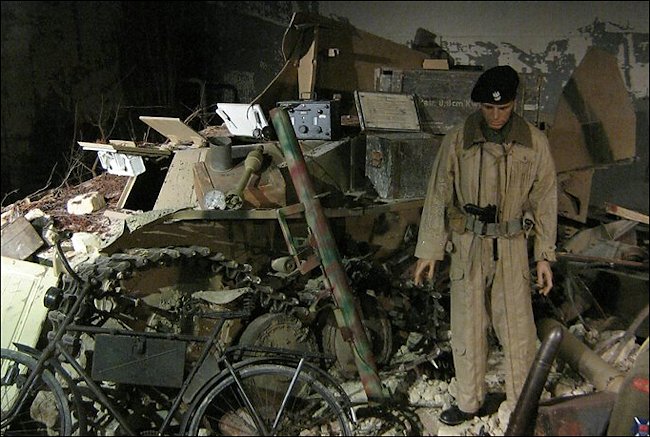 Wespe 105mm self propelled artillery gun wreck diorama
Location
The four tanks at the Bayeux Memorial Museum of the Battle of Normandy are exhibited outside the Museum near the car park. The British and Commonwealth Cemetery is on the other side of the road. It holds the graves of 4,000 men. Both the Military Cemetery and the Museum are on the road called Boulevard Fabian Ware in Bayeux.
This road is part of the ring road around Bayeux that was built by the British Royal Engineers in June to enable the troops, tanks and supply vehicles to get to the battlefront quickly and avoid having to struggle through the narrow streets of the city of Bayeux. Be aware that the museum closes for lunch. You can still see the tanks as they are outside even if the museum is closed.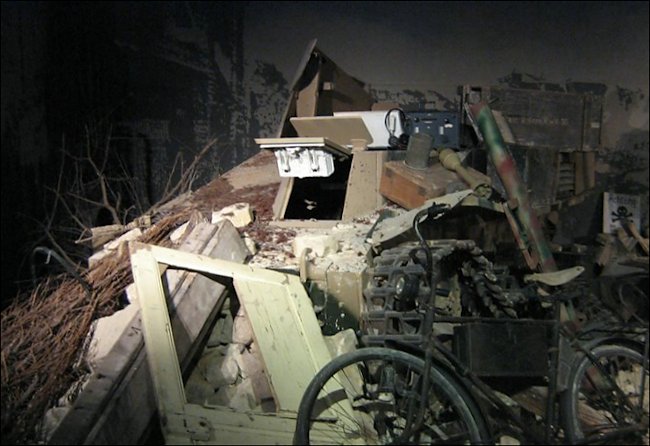 Wespe SPG wreck at the Bayeux Memorial Museum of the Battle of Normandy
Specification
The Wespe was powered by a 6 cylinder Maybach HL 62 TR petrol engine. It had a top road speed of 40 km/h (25 mph). It had a crew of 5: commander, driver, gunner, gun-layer and loader. Its armour thickness ranged from 5 mm - 30 mm which would only protect the crew from small arms fire and and high explosive shell shrapnel. The main gun was a 105 mm LeFH 18/2 L28 that could fire high explosive HE shells 10.67 km (6.63 miles). The gun had a rate of fire or 4-6 rounds per minute.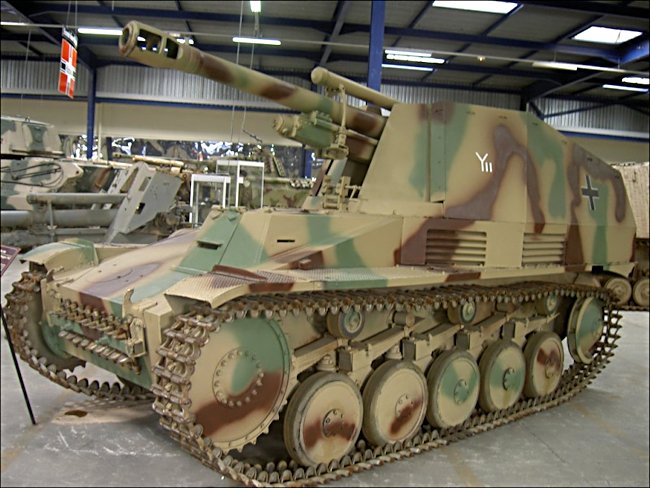 This German Wespe 105mm le.FH 18/2 Fahrgestell auf Geschutzwagen Pz.Kpfw. II self propelled artillery gun (Sd.Kfz.124) can be found at the French Tank Museum in Saumur.
D-Day 1944 books