Canadian M1917 6-ton light tank
This surviving US built M1917 6-ton light tank was used by the Canadian Army to train tank crews in WW2. It can be found at the Base Borden Military Museum, 27 Ram Street, Canadian Forces Base (CFB) Borden. Ontario, Canada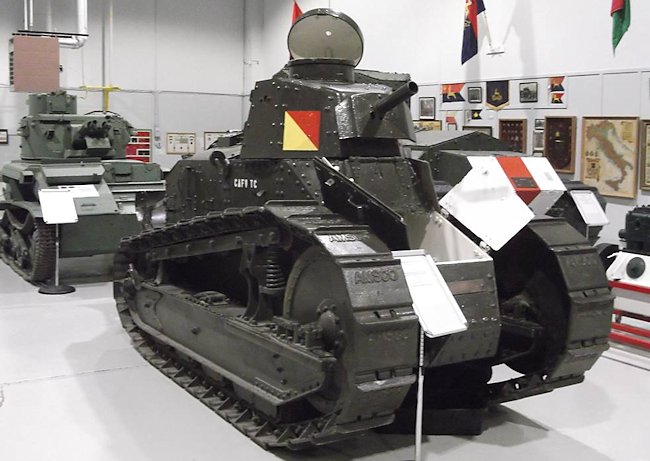 Restored Canadian M1917 6-ton light tank at the Base Borden Military Museum. Ontario, Canada. Behind it is a Vickers MkVIB tank. Both were used to train tank crews in WW2. This is what it would have looked like at the RCAC school from 1940-1943. The Red and yellow square was the Canadian Armoured Corps marking. (photo: Wikipedia)
Location
This restored M1917 6 ton light tank can be found at the Base Borden Military Museum, Canadian Forces Base (CFB) Borden. Ontario, Canada. It is 100km north west of Toronto. It is closed on Monday and only open in the afternoon on Saturday and Sunday. It opens at 9am Tuesday - Friday but closes early at 3pm. At present admission is free.
Specifications
Although the tank is called the 6 ton tank it weighed around 7.25 tons. It was powered at first by a Buda HU modified 4-cyclinder, with forced water cooling gasoline petrol engine that produced 42 hp not the French Renault 4-cyl, 4.5 litre, thermo-siphon water-cooled engine that was fitted to the Renault FT tanks. Its maximum road speed was only 5 mph (8 km/h) and it had an operational range of 30 miles (48km) before it needed to refuel. The two man crew were protected by armour that ranged from 8mm to 22mm in thickness. This would only stop small arms fire and shell shrapnel.
The French machine gun was replaced with a Marlin M1917 machine gun and later with a M1919 Browning tank machine gun. A few of the tanks were armed with a 37mm M1916 gun that could fire high explosive HE shells.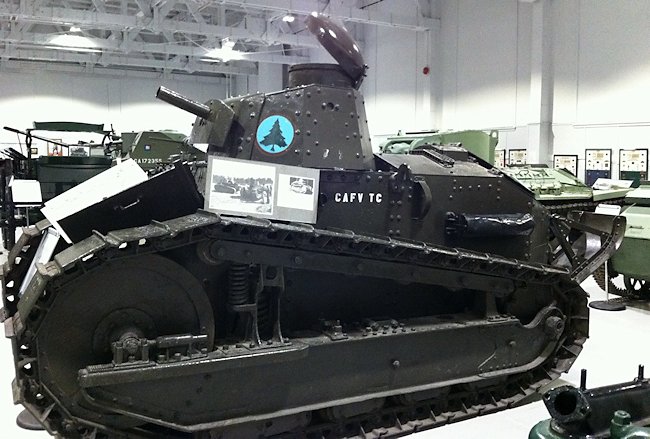 The tree badge on the left side of the M1917 tank's turret was the Canadian Army Tank School marking. (photo: Wikipedia)
Canadian Armoured Corps pre WW2
A single Canadian Army tank battalion had been authorised for deployment on the WW1 Western Front but the Canadian tank crews in the UK were not trained in time to see action before the war ended on 11th November 1918.
This early Royal Canadian Amoured Corps was demobilised in 1919. During the Winnipeg General Strike the Canadian Government looked into buying some tanks to be deployed on the streets after reading about the American and British Governments using tanks as a deterrent in the 1930's depression workers strikes. The public unrest in Winnipeg finished before any tanks were delivered.
During the 1920's the only armoured vehicles in the Canadian Army were a few armoured cars that had been shipped back to Canada after WW1.
The first step towards armoured mechanisation of the Canadian Army was the purchase of tracked machine gun carriers. In 1935 the Cavalry began to introduce armoured cars fitted with machine guns.
In 1938 The Canadian Army realised that they would need to reform the tank Corps. Tank Battalions began to be formed from established Infantry regiments.
The Canadian Tank School was opened and moved to Camp Borden in Ontario. Its name was changed to the Armoured Fighting Vehicle School. It still did not have lots of tanks in which to train future tank crews. A few tracked machine gun carriers, a British Light Dragon Mk III and two Vickers light tanks were all it had at its disposal.
In late 1939 when war in Europe broke out the School was slightly better off: it now could boast that it had 14 British Vickers Mk VIB light tanks on its strength. This was not enough. The Canadian AFV Training Centre at Borden was expected to train 200 men at a time. They needed more vehicles.
We need more tanks now!
In June 1940, Colonel Frank Worthington informed the Canadian National Defence Headquarters of a number of surplus M1917 6-ton tanks in the United States. The U.S. agreed to sell 250 of the tanks Colonel Worthington ordered 236 M1917 tanks on 21st September 1940 to increase the amount of tracked vehicles available to train Canadian Army tank crews.
At the time of the deal the United States was a neutral nation and could not officially provide weapons to any of the combatants. The Canadian Government was sold these old WW1 era tanks as 'scrap metal'. They paid the going rate for scrap metal: each tank only cost $240US. The first M1917 tanks arrived at camp Borden on 8th October 1940. Tank Crew training could now start in earnest.
The Canadian opposition party heard about the deal and tried to embarrass the Government in Parliament and raised a question about the purchase. They received the formal reply that the train delivering 1,500 tons of scrap metal had arrived at the Camp Borden Iron Foundry. No further questions were asked.
Tank Crew Training
The Canadian tank crews were trained using a very unique method. Camp Borden was off limits to civilians but it was full of wildlife. Local farmers and hunters would ignore the no entry signs to hunt bear, deer, elk and moose. The tank crews were instructed to hunt these hunters using their tanks and pretend that they were enemy tanks. Live ammunition was not used against these poachers.
Colonel Worthington mentioned to his son, 'One of my cherished memories is walking down the concrete road through camp to the one-room school near the Air Force area one fall day, and seeing a Renault tank emerge from the bush area with a deer carcass draped over the tanks gun, and two disgruntled poachers in plaid shirts marching in front with their hands on top of their heads. Pretend prisoners of war. The soldier in the tank's turret was beaming like an Olympic champion. The officers' mess and the sergeants' mess subsequently dined on venison.'
The M1917 6-ton light tanks lacked suspension so gave a very hard jarring ride when students drove across country. They had a tendency to suffer from mechanical breakdowns frequently and some caught fire. Tank crew students had to learn flag and hand signals as the tanks were not equipped with radios.
The shock of the fall of France and the success of the German Armoured divisions lead to the formation of the Canadian Armoured Corps in August 1940.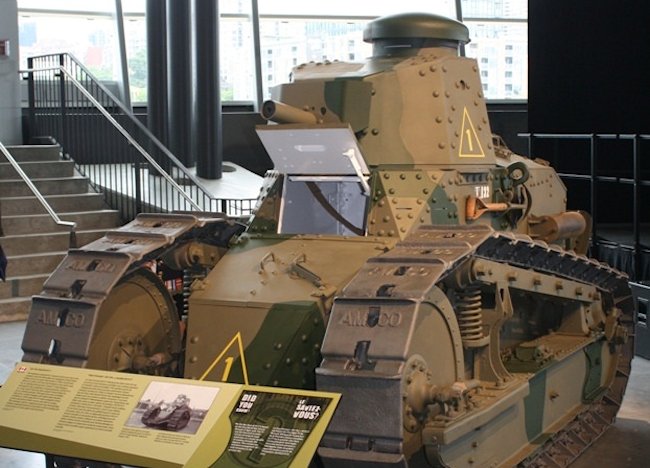 Surviving M1917 6-ton light tank Canadian War Museum, Ottawa, Canada (photo: W.E.Storey)
The Canadian War Museum's M1917 Tank
A second surviving Canadian M1917 tank that had escaped being cut up for scrap metal was located in Alberta, Canada. It was used to pull timber off hillsides and onto the road where they were collected by lorries. It was purchased by the Canadian War Museum in 1997. Restoration work began in 2008 with financial support provided by private donor Mr Richard Iorweth Thorman and additional funds allocated by the charitable organization Friends of the Canadian War Museum. The vehicle was in poor shape; the upper hull and turret had been removed and discarded. Spare M1917 tracks and running gear were found on the Kingston, Ontario rifle ranges. They were used to restore the tank. The turret and parts of the hull had to be fabricated in Ottawa by a company called DEW Engineering.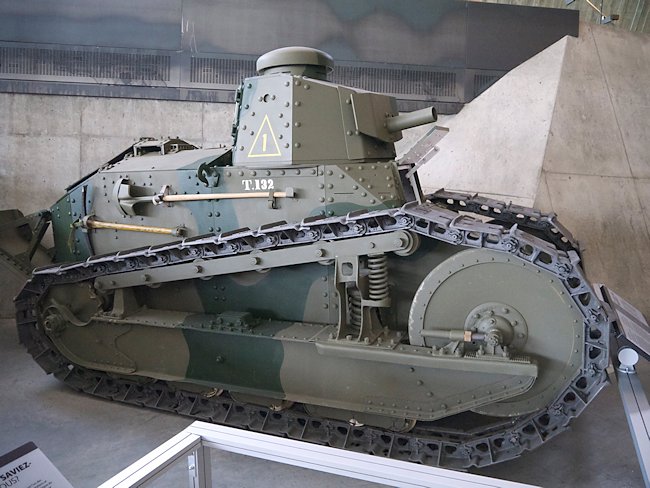 Canadian War Museum M1917 6-ton light tank (photo: Wikipedia)
Where can I find other preserved M1917 Light Tanks?
Old Rhinebeck Aerodrome, Old Rhinebeck, NY, USA
West Point Museum, NY USA
Military Museum of Southern New England, Danbury, CT USA
Manville, NJ USA
Pennsylvania Military Museum, Boalsburg, PA USA
American Armored Foundation Museum, Danville, VA USA
Virginia War Museum, Newport News, VA USA
Virginia Museum of Military Vehicles Nokesville, VA USA
National Armor and Cavalry Mus, Fort Benning, GA USA
Institute of Military Technology, Titusville, FL USA
Ropkey Armor Museum, Crawfordsville, IN (USA
1st Division Museum at Cantigny, Wheaton, IL USA
Bloomington, IL USA
U.S. Army Center for Military History Storage Facility, Anniston, AL USA
Hayes Otoupalik Collection, Missoula, MO USA
Jacques Littlefield's collection, Portola, CA USA
Canadian Forces Base, Borden, Canada
Canadian War Museum, Ottawa, Canada
Source - Pierre-Oliver Buan - http://the.shadock.free.fr/Surviving_Panzers.html
World War Two Books