British Churchill Mark VII Tank
This British Churchill Crocodile Flame Thrower Tank can be found outside the D-Day Museum, Clarence Esplanade, Southsea, Portsmouth PO5 3NT www.ddaymuseum.co.uk .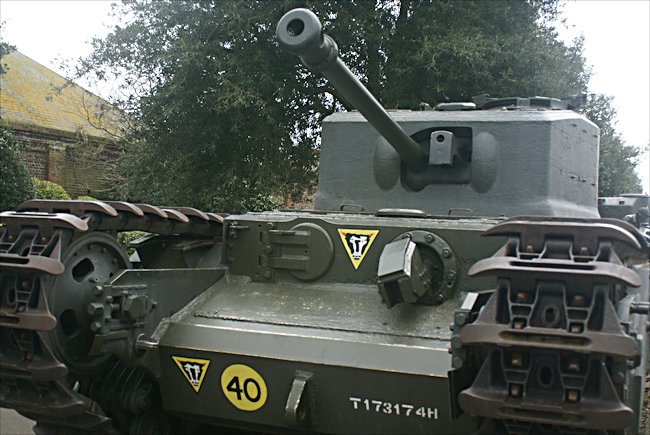 Churchill Mk VII Crocodile Flame Thrower Tank. The Main gun still worked and the flame gun replaced the tank's machine gun.
The Crocodile Flame Thrower Tank
Old versions of Churchill tanks were converted into flame-throwers. This was an old Mark I Churchill that was converted and called a Churchill Mark VII. They were given the nick-name of Crocodiles because of the way the trailer attached to the rear of the tank that contained the 400 gallons of petroleum jelly fuel for the flame gun moved from side to side as it went over rough ground. You can see the armoured hose link to the two-wheeled armoured trailer at the back of the tank.
Gas cylinders were used to provide the pressure needed to propel the fuel to the flame gun at the front of the tank. The flame gun had a range of 100 yards and the fuel was ignited as it left the nozzle of the gun. The burning petroleum jelly stuck to everything it touched. It was a terrible weapon to face in combat. The flame gun replaced the hull mounted Besa machine gun.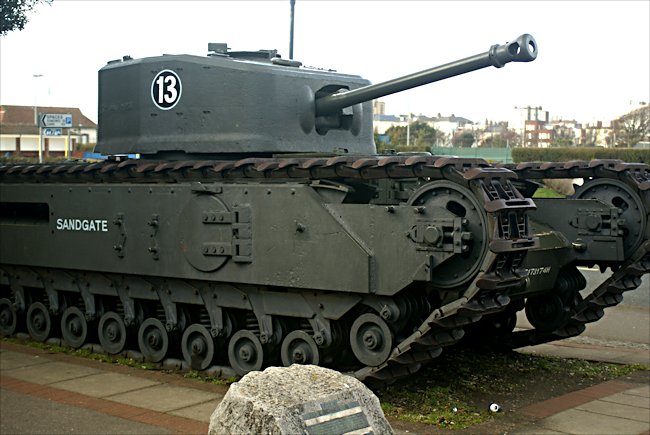 Side view of the Churchill Crocodile Flame Thrower Tank. Notice the Driver's escape hatch.
The tank's 75mm gun still worked and was used in defence and also to shoot a hole into a defended building before firing the flame thrower's liquid death into that hole. If the Crocodile crew were ever captured they were beaten and killed by the enemy. The tank commander had to get close. It was designed for clearing out machine gun nests, bunkers and other strongpoints like farm houses. Often the mere appearance of a Churchill Crocodile flame-thrower was all that was needed for the German soldiers to surrender.
This tank has been given displays the markings of C Squadron 141st (the Buffs) Regiment, Royal Armoured Corps. They landed in Normandy on D-Day on Gold Beach. The Bulls head Triangular badge is the insignia of the 78th Armoured Division. The Yellow Circles were the tactical sign of C Squadron.
There are other surviving examples at the British Bovington Tank Museum, Muckleburgh Collection in Norfolk, The Eden Camp Museum in North Yorkshire, The Cobbaton Collection in Devon, Museum of the Regiments in Calgary, Alberta, Canada, Royal Australian Armoured Museum Corps Museum, Bayeux Museum, Normandy and the Kubinka Tank Museum outside Moscow in Russia.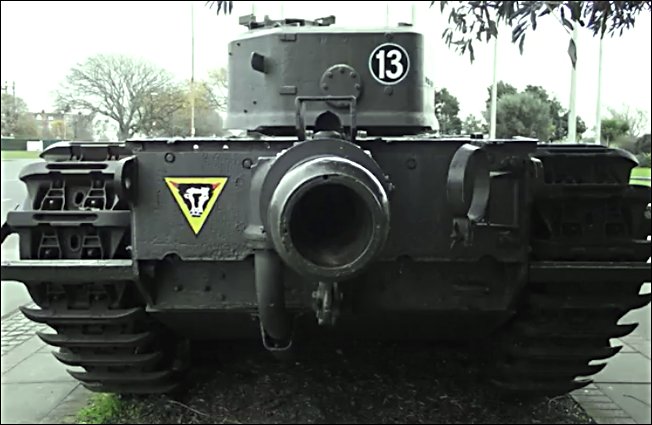 British Army Churchill Crocodile Flame Thrower Tank rear nozzle that fitted to the armoured fuel trailer.
Where can I find other preserved Churchill Mark VII Tanks?
Churchill Mark VII - Bovington Tank Museum, England
Churchill Mark VII - RAAC Tank Museum, Puckapunyal, Australia
Churchill Mark VII - Hill 112, Near Caen, Normandy, France
Churchill Mark VII - Cavalry Tank Museum, Ahmednagar, India
Churchill Mark VII - Curragh Camp, Ireland
Churchill Mark VII - Imperial War Museum Duxford
Churchill Mark VII AVRE - Royal Engineers Museum, Gillingham, England
ww2 tank books