Churchill MkII A22 Infantry Tank
This British Churchill Mark MkII A22 Infantry Tank can be found at the Tank Museum, Bovington, Dorset, England. It is presently acting as a Gate Guardian inside the complex.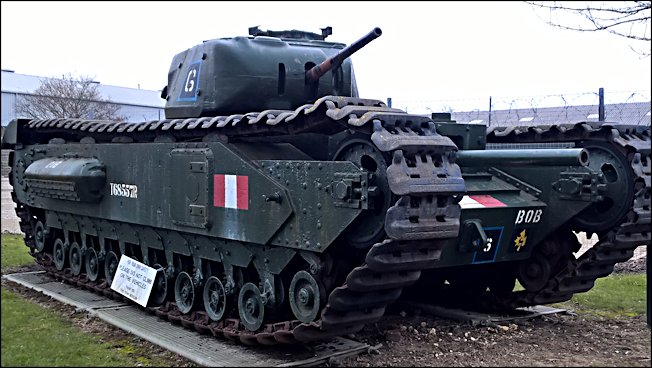 British Churchill MkII A22 Infantry Tank
The British Army specified the role of the Churchill tank was to support infantry formations by destroying enemy strongpoints and creating a path through obstacles, like bard wire, to help create a breakthrough in the enemy's defensive line. These were the same specifications given to British tanks of World War One.
To achieve this the first Churchill tank the Mark I was fitted with a close support 3 inch howitzer in the hull and a 2-pounder anti tank gun in the turret. The tank's body was still very long compared with the light tanks of that time, to improve its cross country and trench crossing qualities. Priority was not given to speed. It was only designed to keep up with advancing infantry. The Mark II Churchill resembled the Mark I tank but it was fitted with a modified, larger barreled, hull mounted Besa machine gun.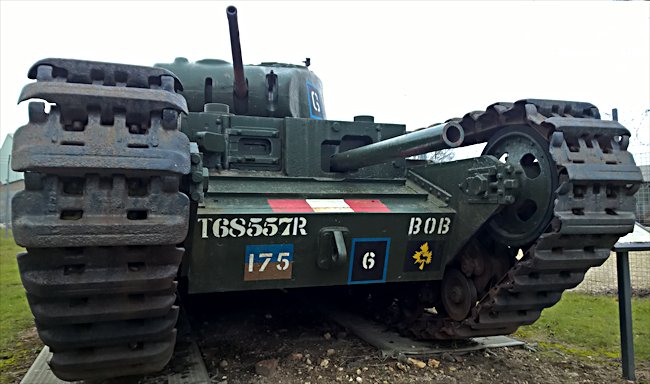 British Churchill MkII A22 Infantry Tank
The Churchill tank first saw action with the Canadian Army during the disastrous Dieppe Raid in 1942. The tank at Bovington has been painted in the same markings of the tanks used in that action as a memorial to the men that lost their lives. This particular MkIII Churchill task was rescued from Stainburn Gate Forest near Harrogate in the 1980's. It was abandoned after it got stuck in a muddy sodden bog during an Army training exercise in 1944.
British Churchill MkII A22 Infantry Tank
Where can I find other preserved Churchill Tanks?
Churchill Mark I - Worthington Park Museum, Canadian Forces Base Borden, Canada
Churchill Mark II - Lowick Homeguard Unit, Lowick, Northumberland, England
Churchill Mark II AVRE - RREME Museum of Technology - Historic Vehicles Collection, Bordon, England
Churchill Mark II AVRE - Rod and Rex Cadman, War and Peace Collection, Ash, Kent, England
Churchill Mark III - U.S. Army Ordnance Museum, Fort Lee, VA, USA
Churchill Mark III - Bovington Tank Museum, England
Churchill Mark III - Canadian War Museum, Vimy House, Ottawa, Ontario, Canada
Churchill Mark III - Swedish Tank Museum,
Churchill Mark IV - Musée des Blindés, Saumur, France
Churchill Mark IV ARVE - National Museum of Military History, Johannesburg, South Africa
Churchill Mark IV ARVE - South African Armour Museum, Temple, South Africa
Churchill Mark V - Dutch National War and Resistance Museum, Overloon, Holland
Churchill Mark VI - Dutch National War and Resistance Museum, Overloon, Holland
Churchill Mark VII - Carrickfergus Marine Gardens, Carrickfergus, Northern Ireland
Churchill Mark VII - Bovington Tank Museum, England
Churchill Mark VII - Castlemartin Training Area, Gate Guardian, Pemborkeshire
Churchill Mark VII - Sheffield old Tank Works, Gate Guardian
Churchill Mark VII - The Hop Farm, Gate Guardian, Beltring, Kent, England
Churchill Mark VII - RAF Honington, Suffolk.
Churchill Mark VII - Melbourne Tank Museum, Narre Warren North , Melbourne, Australia
Churchill Mark VII - Battlefield Memorial, Le Havre, France
Churchill Mark VII - Hill 112 Memorial, North East of Esquay-Notre-Dame, D8 junction with Chemin-Hausse, Normandy, France
Churchill Mark VII AVRE - R.E. Museum, Chatham, England
Churchill Mark VII Crocodile Wreck - Rod and Rex Cadman, England
Churchill Mark VII Crocodile - D-Day Museum, Portsmouth, England
Churchill Mark VII Crocodile - Mucklburgh Collection, Norfolk, England
Churchill Mark VII Crocodile - Privately owned by David Russell, Pounds Yard, England
Churchill Mark VII Crocodile - Cobbaton Combat Collection, Chittlehampton, Devon, England
Churchill Mark VII Crocodile - Eden Camp, Malton, North Yorkshire, England
Churchill Mark VII Crocodile - Wheatcroft Collection, England
Churchill Mark VII Crocodile - Museum of the Regiments, Calgary, Alberta
Churchill Mark VII Crocodile - Musée Memorial, Bayeux, Normandy, France
Churchill Mark VII Crocodile - Le Fort Montberay, Memorial du Finistere, Brest, France
Churchill Mark VII Crocodile - Association de Sauvegarde du Patrimoine Historique Militaire. 1 Rue Georges Cuvier, La Watzenau, France
Churchill Mark VII Crocodile - Kubinka Tank Museum, Russia
Churchill Mark VII Crocodile - Virginia Museum of Military Vehicles, USA
Churchill Mark VII Crocodile - Patton Museum, USA
Churchill Mark VIII - RAAC Memorial and Army Tank Museum, Puckapunyal, Victoria Australia
Churchill Mark IV AVRE - Graye-sur-Mer, Normandy, France
Churchill Mark IV AVRE - South African Armour Museum
Churchill Mark IV AVRE - Imperial War Museum Duxford
Churchill Mark IV/IX LT AVRE - National Museum of Military History South African
Churchill Mark IV Crocodile - Royal Australian Armoured Corps Memorial and Army Tank Museum, Puckapunyal, Victoria, Australia
Churchill 3" gun carrier Wreck - Bovington Tank Museum, England
Churchill 3" gun carrier Wreck x3 - Rod and Rex Cadman, War and Peace Collection, Ash, Kent, England
Churchill Toad Flail Wreck - Bovington Tank Museum, England
Churchill Mark XLT - Gate Guard for the North Irish Horse in Belfast
Churchill A43 Black Prince - Bovington Tank Museum, England
Churchill A43 Black Prince Wreck - Rod and Rex Cadman, War and Peace Collection, Ash, Kent, England
Source - Pierre-Oliver Buan - http://the.shadock.free.fr/Surviving_Panzers.html
WW2 Tank Books