The French FCM 36 Light Infantry Tank
This is the last surviving French FCM 36 Char léger Modèle 1936 French WW2 light infantry Tank. It can be found at the French Tank Museum in Saumur in the Loire Valley. The Museum is called Musée des Blindés ou Association des Amis du Musée des Blindés, 1043, route de Fontevraud, 49400 Saumur, France www.museedesblindes.fr . The word Blindés means armoured.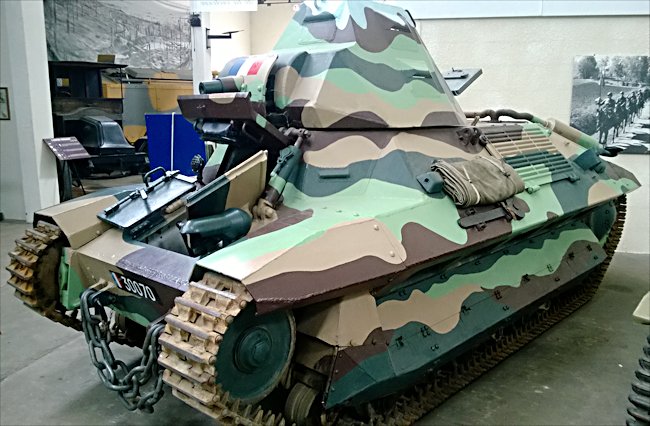 FCM 36 Char léger Modèle 1936 French WW2 light infantry Tank
The name of this tank comes from the manufacturers called Forges et Chantiers de la Méditerranée initials FCM who were based in Toulon and the date of the tanks commission 1936. This two man light tank was designed for infantry support. Unlike its competitors from Renault and Hotchkiss, the FCM 36 was made of welded not riveted steel plates and was fitted with a diesel not petrol engine. These two features were later to become standard on future tank designs. Only 100 tanks were built. Its main armament was a short 37mm model 18 tank gun which proved to be unable to knock out German tanks.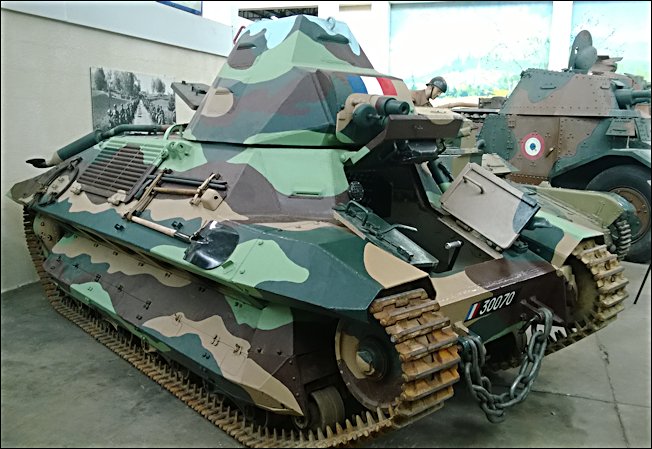 FCM 36 Char léger Modèle 1936 French WW2 light infantry Tank
Char FCM 36 vs Panzer III tank
In the spring of 1940 Hitler turned his attentions to the West. Since the fall of Poland France and Britain had been building defensive fortifications, stock piling ammunition and massing men and machines. The Allies believed they were ready for the inevitable German invasion. By May 1940 they fielded nearly 3,500,000 men, 14,000 artillery pieces and 3,600 armoured vehicles. On paper it was a formidable defensive force that out-numbered and out-gunned the Germans.
For the invasion Germany had assembled 2,400,000 men, 7,500 artillery guns and 2,500 tanks. Under conventional military theory an attacker should be stronger than a defender, but the German plan was far from conventional. Their plan called for ten Panzer divisions to charge west across a 250 mile front into Holland, Luxembourg and Belgium with their main attack going through the Ardennes hills and forests. The Luftwaffe would provide crucial air support. The German's goal was to surprise, divide and destroy the Allies.
The hilly rugged Ardennes was considered unsuitable terrain for tanks. Heavy armour could get bogged down in the ruts and gullies. It was considered an unlikely place for a German panzer attack. As a result for those very reasons it was perfect. The speed and the ferocity of the attack caught the Allies off guard. The senior officers of the French and British armies were still clinging to the tactics of World War One and they were ill prepared to deal with the more mobile armour first lighting war named Blitzkrieg. All the young panzer officers knew that speed and mobility spreading confusion were the key elements to this strategy.
More than 1,700 panzers cross the Ardennes with unexpected speed. They covered 60 miles of difficult terrain in less than three days. By the 13th May 1940 they were only 180 miles from the English Channel. The Allies sent all available forces east to intercept the Germans at the River Meuse.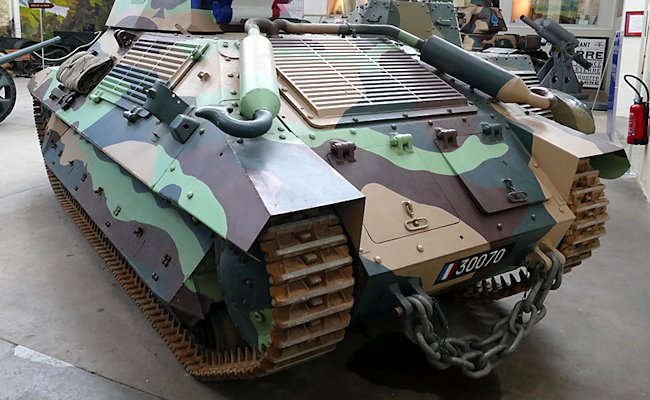 Twin exhaust system on the rear of a surviving FCM 36 French WW2 light infantry Tank at the French Tank Museum in Saumur.
Guy Steinbach was part of the French 7th Light Tank Battalion (7e Bataillons de Chars de Combat ) at that time. They were issued with FCM 36 light tanks. "That afternoon we received urgent orders to rush forward and to counter attack the Germans that had crossed the Meuse at Sedan. We had to through them back across the river to the other side. As we approached the area some of us were on the road whilst others where in the fields. All of a sudden we saw clouds of dust. We were surprised that it was caused by German armour. It wasn't just two or three, it was dozens of panzers armed with cannons with long barrels." This battle took part near Bulson.
Advancing towards the inadequately armed infantry support French FCM 36 light tanks were the vastly superior German Panzer III medium tanks armed with long barreled 37mm cannons. This gave them far more killing power than their French counterparts.
Guy Steinbach continued, "We take the shell. We put it in the cannon and we fire. We do not have time to think. We just could not pierce their armour. I saw some of my comrades get hit first. They were dead without being able to do anything. It was awful to think there was nothing you could do to help but there was just nothing you could do to defend yourselves from the large and more powerful German cannons."
The FCM 36 light tanks were no match for the Panzer III tanks. The main draw back was their armourment, the short 37mm model 18 tank gun which was almost useless against German 30mm frontal armour. Guy Steinbach recollects, "All you could do was try to blind the drivers of the panzer III tanks in front of us. It was not easy to aim. We were using our shoulder to move the cannon up or down to choose the area we wanted to hit, but we somehow managed. At this stage we do not even think if we were going to make it or not. We have to do what we can with what we have. That is all. If we get killed then so be it.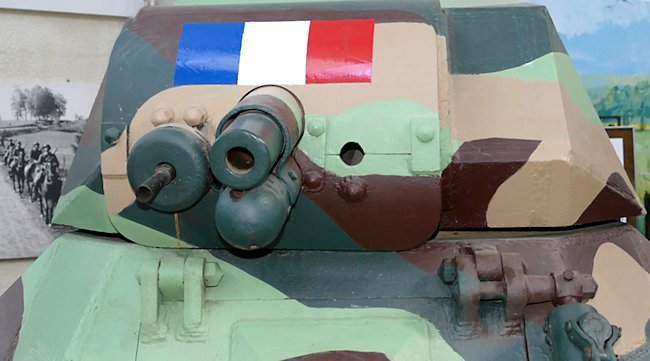 Close up of the turret on a preserved FCM 36 French WW2 light infantry Tank at the French Tank Museum, Musée des Blindés in Saumur, France.
When shells hit our armour the steel turns bright red. Inside the tank shards of metal would fly out red hot and piercing. When we see a French tank burning, with shell holes, it hurts. We feel it and we try to avenge them. While I was looking a German shell hit out turret. It did not go through but it shattered the periscope and knocked me out. My tank was the last to be knocked out. Of the 39 tanks that set out that morning only 10 remained but we stopped the Germans. That was out goal."
The French FCM 36 tanks did manage to knockout some lighter German armoured vehicles. The battle did not go all the German's way. They found out that not all their shots managed to penetrate the 40mm thicker frontal armour on the French FCM 36 tank. This led to the development of the German tungsten core armour-piercing, composite non-rigid (APCNR) round. Those French tanks that were still mobile withdrew. News got back to French Army HQ what had happened and a planed attack by their sister armoured unit the 4th Light Tank Battalion (4e Bataillons de Chars de Combat ) who were also equipped with FCM 36 tanks was cancelled. Despite their losses the French tanks slowed the German advance forcing a rethink on tactics.
This is the only surviving example of a FCM 36 Light tank. Those that were captured by the Germans had the turrets ripped off and the chassis used to propel larger guns. In 1943 ten were rebuilt as Marder I tank destroyers, which were employed by 21 Panzer Division in the Battle of Normandy in 1944. In 1942 twelve were rebuilt as self-propelled artillery, the 10.5 cm leFH 16/18 (Sf) auf Geschuetzwagen FCM (f).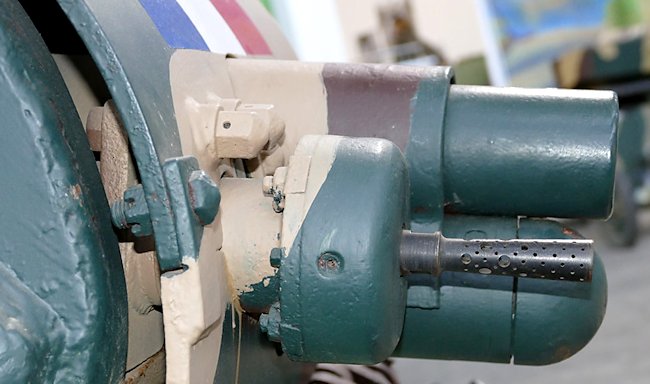 Restored FCM 36 French WW2 light infantry Tank at the French Tank Museum in Saumur.
WW2 tank books