Lion-Sur-Mer Churchill Mk IV AVRE Tank
This Churchill Tank does not have a gun. It has a Petard 290mm Spigot Mortar instead that is designed to blow up concrete. Tanks like this were landed on nearby Sword Beach on D-Day in Normandy 6th June 1944. It needs another restoration. The last was in 1994. As you can see a lot of the paint is flaking off and rust is starting to appear. AVRE stands for Armoured Vehicle Royal Engineers and Assault Vehicle Royal Engineers.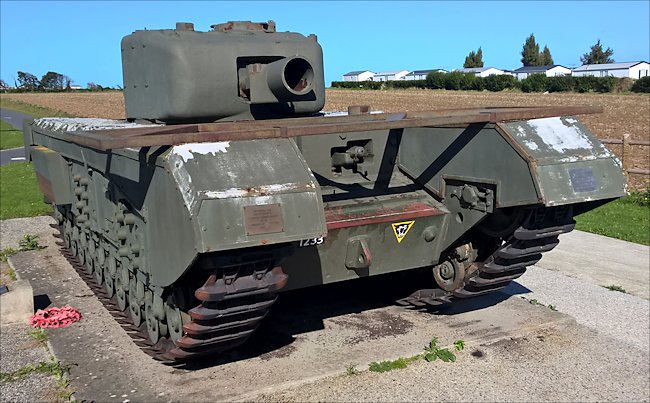 Churchill Mk IV AVRE Tank at Lion-Sur-Mer Sword Beach D-Day Memorial
Location
This D-Day WW2 British A22 Churchill Mk IV AVRE tank is on the side of the D514 main coast road at the roundabout where this road meets the Avenue de Blagney and the Boulevard Anatole France just to the west of Lion-sur-Mer.
Specification
Armed with a Petard 290mm Spigot Mortar the Churchill Mk IV ARVE tank could fire a 40lb (18kg) high explosive warhead 150 yards (137m). Its job was to get close to machine gun nests in concrete fortifications or fortified houses and blow them up.
It was powered by a Bedford 12-cylinder, four stroke, water cooled petrol engine that produced 350 brake horse power. The Churchill tank was very slow. Its maximum road speed was only 15 mph (24 km/h). The tank's armour thickness varied from 16mm to 102mm.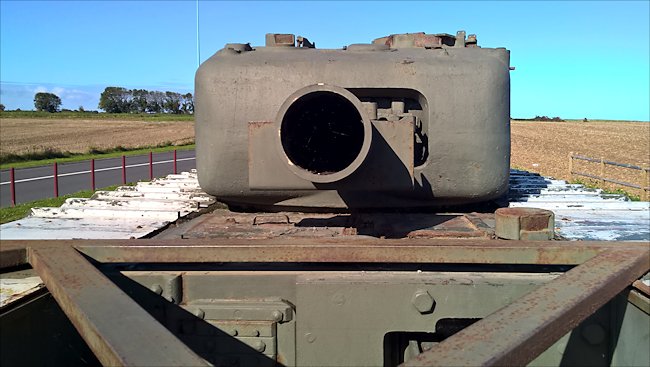 The Petard 290mm Spigot Mortar on the Churchill Mk IV ARVE tank could fire a 40lb (18kg) high explosive warhead
Deployment in Normandy 1944
This Churchill Mark IV AVRE does not have the Dozer fittings of the Churchill at beach exit at Graye-sur-Mer. This tank's prime function was to get close to fortified gun emplacements and blow them up. It was also designed to destroy concrete sea walls and beach defences to help the troops and vehicles get off the beach. It was one of Hobarts 'funnies'. Armoured vehicles designed to deal engineering and military specific problems.
Loading the gun.
No its gun has not been cut short. If you look closely at the gun you will notice it does not go into the turret. It is not loaded inside the tank. All you can see where the turret meets the mortar is a hinge. It was the tank's co-driver who reloaded the 290mm Spigot Mortar by staying in his hatch, with the turret gun over his position and the gun bent down pointing into the inside of the tank. The new mortar shell was then inserted into the front of the gun.
The hinge was then moved up so the mortar tube was now back in the horizontal position. The co-driver and drivers hatches were enlarged to enable the weapon to be reloaded more easily.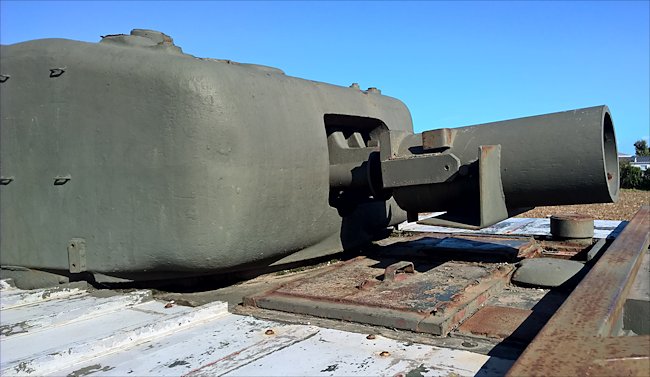 The co-driver's hatch was enlarged to enable him to reload the tank's Petard 290mm Spigot Mortar
This tank does have the classic Churchill tank ribbed 'catwalk' upper track guard unlike the Graye-sur-Mer tank's which are smooth metal. There is a plaque on a nearby stone in French that reads, 'On the 6th June 1994 this Churchill Tank was offered by General Sir Ian Harris who commanded the 2nd Royal Ulster Rifles Infantry battalion on D-Day 6th June 1944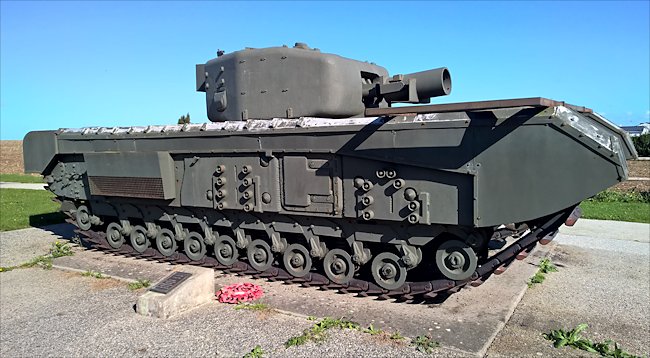 Churchill Mk IV AVRE Tank
D-Day 1944 books