M22 Locust Light tanks did not see action in the WW2 Battle of the Bulge. After the War the Belgium Army used M22 Locusts as command tanks for their M4 Sherman tank regiments. This surviving M22 Locust Light tank is kept at the Bastogne Barracks in Belgium.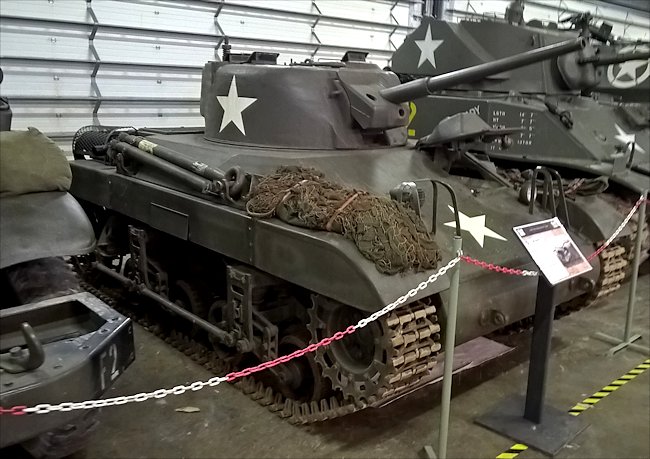 This restored M22 Locust Light Tank is exhibited at the Bastogne Barracks in Belgium.
Location
The Bastogne Barracks can be found at 40 Rue de la Roche (N834) in Bastogne just north west of the city centre. They open at 10am and close at 4pm. You really need to get there by 2pm as there is a lot to see. It is an operational military camp with a tank restoration centre attached. You have to wait to go on a guided tour. You cannot wander around on your own. The only day it is closed is Monday. Many of the tanks have been restored to running condition. Have a look at their Facebook page for information about new events.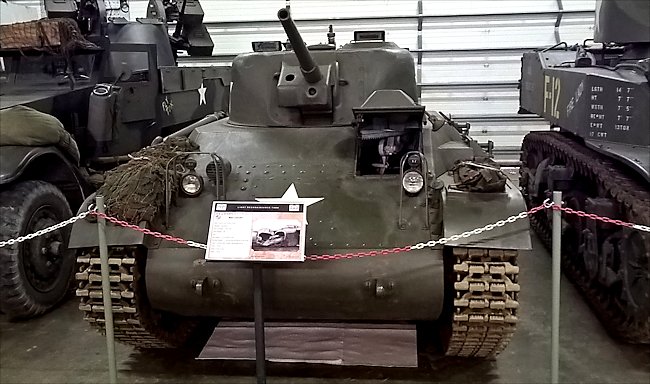 This restored M22 Locust Light Tank is exhibited at the Bastogne Barracks in Belgium.
Specifications
M22 Locust Light Tank was intended for airbourne deployment to the battlefield in gliders or transport aircraft to provide support for Paratroops. It was powered by a Lycoming O-435T 6-cylinder horizontally opposed petrol engine that produced 165 hp. It had a top fast road speed of 40 mph (64 km/h) and an operational range of a bout 135 miles (217 km) before the crew needed to refuel the tank.
The M22 Locust had a crew of three: commander, gunner and driver. They were protected by thin armour plating that only ranged from 9.5mm to 12.5mm. This was just enough to protect the crew from small arms fire and artillery shell shrapnel but not from anti-tank rounds. It was armed with a 37mm M6 Gun and a .30-60 Browning M1919A4 machine gun fitted next to the main gun in the turret.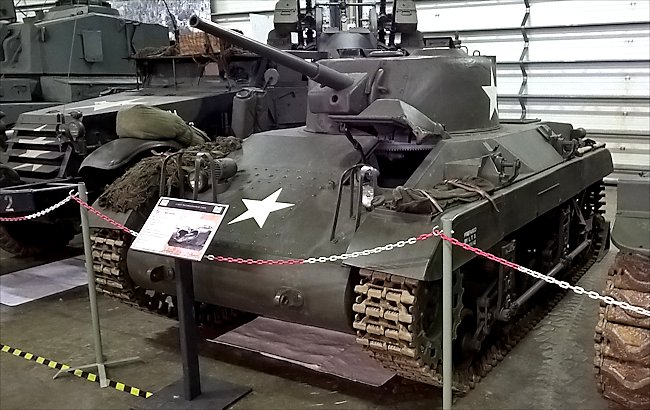 This restored M22 Locust Light Tank is exhibited at the Bastogne Barracks in Belgium.
Belgium Army Stuart tanks
The Belgian Army were given ten Stuart tanks and one M22 Locust light tank after World War Two finished in 1945. They were used to train the new Belgium Army tank crews how to drive and fight with modern tracked armoured vehicles. This was one of them. It was restored by volunteers at the Belgium Army Vissenaken depot. When it closed this M22 was sent to the Bastogne Barracks Museum.
The Development of the M22 Locust
The requirement for an airborne tank was formulated at a US Ordnance Department meeting in February 1941, attended by representatives of the Armored Force and USAAF, and an outline specification for such a vehicle was finalised in May 1941. It called for a tank of about 8 (short) tons in weight (half the weight of the M5Al light tank), and correspondingly compact dimensions suitable for carriage either inside or beneath a transport aircraft
Design studies were invited from J. Walter Christie, GMC, and Marmon-Herrington. Of these, that submitted by Marmon-Herrington, was most promising and a pilot model, designated T9 was ordered. This design featured a 37mm M6 gun, a Lycoming engine, an armour maximum of 25mm, and modified vertical volute suspension.
The T9 pilot model was delivered in the autumn of 1941 and in the light of trials, modifications were suggested including reshaping the hull front to improve shot deflection and the elimination of non-essential fittings, like the power traverse and gyro-stabiliser, to reduce overall weight. Two further pilot models, designated T9E I , were built incorporating these improvements and including an easily removable turret to facilitate air transportation.
The modified design was ordered into production and 830 were built by Marmon-Herrington between March 1943 and February 1944. In September 1944 the T9El was redesignated Light Tank (Airborne) M22 and classed as 'limited standard'. The M22 was never used in combat by American forces, mainly because they lacked a suitable glider or transport aircraft to carry it.
The only means evolved for air transportation of this vehicle by US forces was slung beneath the belly of a C-54 Skymaster transport plane. To do this the turret had to be removed and carried in the aircraft, being re-assembled with the tank on landing, which was a severe limitation to its tactical value.
The second T9El pilot model was shipped to Britain for airborne evaluation early in 1943. The British were designing the Hamilcar glider to carry the Tetrarch light tank (qv) in the airborne role and this also proved capable of carrying the M22, later named the Locust. A large number of M22s were supplied to the British under Lend-Lease for airborne operations and a handful of these were landed by Hamilcar glider in the Rhine crossing operation by the British 6th Airborne Division, March 24, 1945.
The hull was rolled plate and it had a cast turret. Four brackets on hull for slinging to belly of aircraft. These were removed on some vehicles in British service. Some British vehicles also had Littlejohn adaptors fitted to the 37mm gun to improve velocity. First 26 production vehicles had square driver's head cover, remainder had sloped sides. M22 was of conventional, but compact, design, but too thinly armoured and of limited tactical application.
Read more in these two tank books