This British M3 Grant Medium tank can be found at the Tank Museum, Bovington, Dorset, England.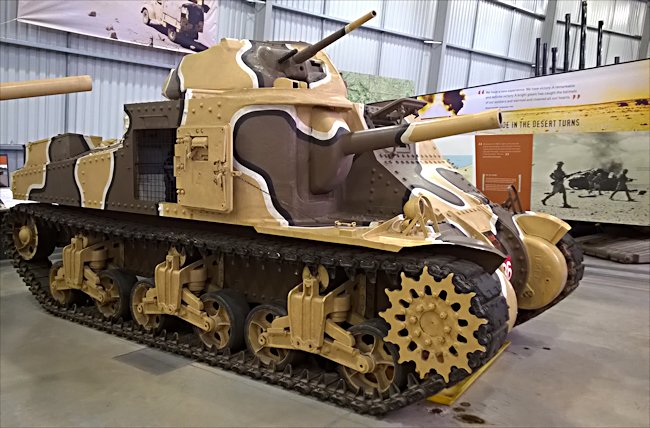 British M3 Grant Medium Tank without a raised commander's cupola
When the British High Command first saw the American M3 Lee tank they did not like how tall it was. It made it a big target that was difficult to hide behind cover. They had discussions with the American engineers and came to a compromise. The version of the M3 tank that would be sent to England for use by British and Commonwealth forces would be slightly smaller because this tank had the commander's cupola removed. It was given the name M3 Grant. Some M3 Lee tanks were used in the North African Desert campaign and there are photographs showing them fighting together with M3 Grants.
The American M3 Grant is an unusual tank as it seems to have taken a backward step in design. It has its main gun an offset sponson mounted in the hull like some World War One tanks. A smaller anti tank gun was fitted to the turret. The hull gun was a large caliber, low velocity 75 mm M2/M3. The turret gun was a 37 mm M5/M6 and the tank was also fitted with three .30 inch Browning machine guns. There was room inside the tank to carry forty six 75 mm rounds and one hundred and seventy eight 37 mm rounds. The main gun was mainly used to fire high explosive HE shells at enemy infantry, gun emplacements and soft skinned vehicles.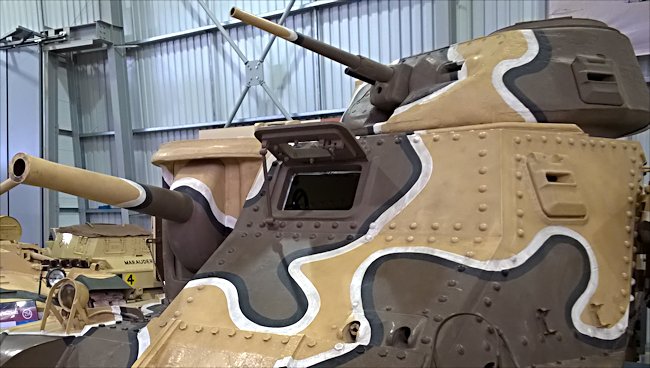 British M3 Grant Medium Tank without a raised commander's cupola
German Feild Marshal Erwin Rommel's troops were shocked when they suddenly confronted these new American tanks. British Lee and Grant tanks first saw action on 27th May 1942 at the Battle of Gazala. During the Battle of Alam Hlfa in Egypt in August 1942. They helped stop the German advance. It is reported that Rommel said of the M3 Grant tanks. 'The New American tank has torn great holes in our ranks.'
The M3 Grant tank need a crew of six: a driver, a gunner and loader for both guns and a commander. It had a top road speed of 26 mph (42 km/h) and a top cross country speed of 16 mph (26 km/h). Its fuel tanks could carry 175 US Gallons (662 litres) which gave it an operational range of 119 miles (193km).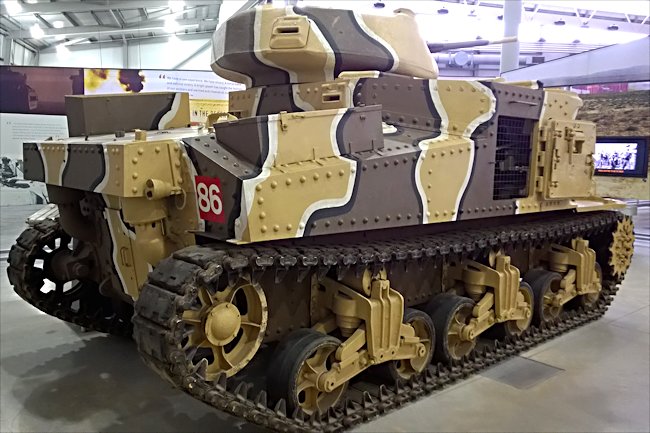 British M3 Grant Medium Tank without a raised commander's cupola
You will notice that the armour plates on this tank are riveted. This is an early model M3 Grant. Later versions had welded armour. The problem with riveted armour was hen it was hit by an enemy shell the rivets broke off and became projectiles inside the tank that caused often fatal injuries.
When the M3 Grant and Lee tanks first appeared on the battlefield they were often superior to the enemy tanks in armour protection and firepower. This superiority did not last long. With the introduction of German tanks such as the Tiger, Panther and long barreled 75 mm Panzer MkIV they became easy targets as their high profile meant that they could be seen at long distance. The were replaced as soon as the M4 Sherman tanks arrived in North Africa.
Where can I find other preserved British Grant Tanks?
Imperial War Museum Duxford England (storage)
Yad la-Shiryon, Latrun Israel
RAAC Tank Museum Australia
M3 GFrant Dozer - RAAC Tank Museum Australia
Army Museum of Western Australia
Wheatcroft Collection England
Military Vehicle Technology Foundation USA
Virginia Museum of Military Vehicles USA
Musée Royal de l'Armée Belgium
El-Alamein War Museum Egypt
Cavalry Tank Museum India
Bovington Tank Museum England
Source - Pierre-Oliver Buan - http://the.shadock.free.fr/Surviving_Panzers.html
WW2 tank books