M4(105) VVSS Sherman 105mm tank
The M4(105) Sherman Tank was armed with a 105mm Howitzer Assault Gun. They were deployed to give support to infantry and tanks units when attacking concrete pill boxes, fortified farm houses, soft skinned lightly armoured vehicles, infantry and artillery encampments. This surviving rare Battle of the Bulge American M4(105) Sherman Tank 105mm Assault Gun can be found in the Bastogne Historical Center war museum in Belgium. This tank has a serial number of 57132 and was built in May 1944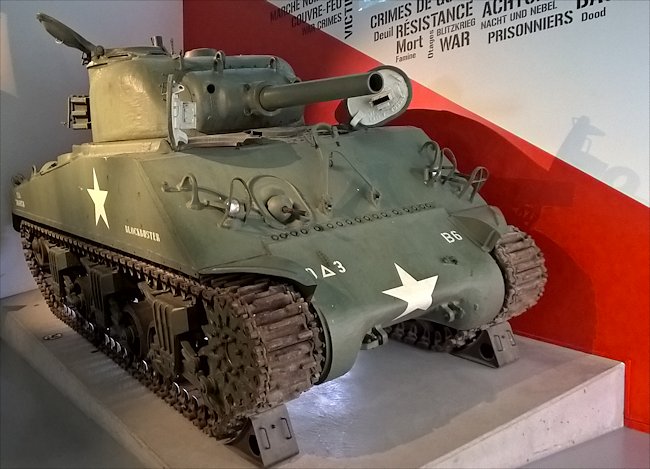 This M4(105) Sherman 105mm tank was donated to the City of Bastogne by General Desobry 10th US Armoured Division. He was born in 1918 and was seriously injured at Noville on 19th December 1944 during the Ardennes Offensive, the Battle of the Bulge. His military ambulance was captured by the Germans and treated in one of their hospitals. He ended the war in Germany as a POW. After the war he returned to the US Army and took part in the allied occupation of Austria. During the Vietnam War he served in the Mekong Delta.
Location
The Bastogne War Museum can be found at 5 Colline du Mardasson just north east outside Bastogne city centre. It is open at 9.30 am and close at 6pm (last entry 4pm) all week except Monday when the Museum is closed. It is also closed during January. In July and August it is open for an extra hour until 7pm (last entry 5pm). It is next to the star shaped American Liberators Memorial also known as the Mardasson Memorial. It honours the memory of American soldiers wounded or killed during World War II's Battle of the Bulge.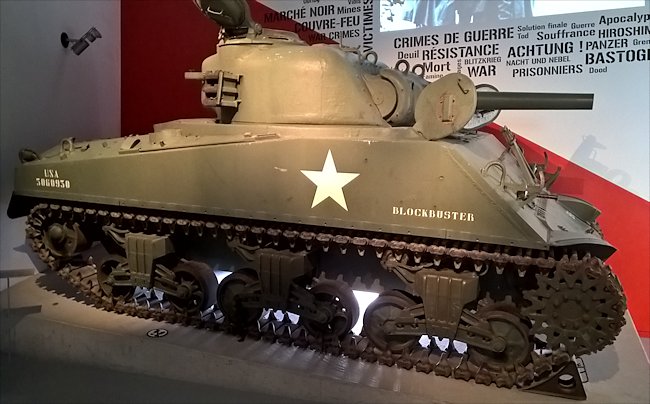 Specifications
The tank was armed with a 105 mm M4 howitzer that was designed to fire powerful high explosive HE artillery rounds. It was deployed in a six tank assault gun platoon and used to provide close fire support and smoke to assist the attacking lead tanks. It was not designed to take on enemy tanks. It was an artillery gun fitted inside a tank turret.
The M4 Sherman was powered by a Continental R975 C1 9 cylinder radial petrol engine that produced 400 hp. It had a maximum road speed of 30 mph (48 km/h). The tank had an operational range of around 120 miles (193 km) before it needed refueling. It needed a five man crew: commander, gunner, loader, driver, co-driver/machine gunner. They were protected by armour that ranged in thickness from 25 mm to 76 mm.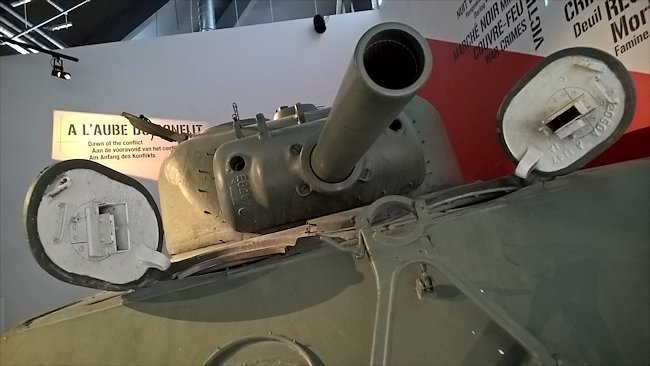 Where can I find other preserved 105mm Sherman Tanks?
M4 105mm HVSS (large tracks) - The Tank Museum, Bovington, England
M4 105mm VVSS (narrow tracks) - Armourgeddon Paintball Museum, Southfields Farm, Leicester Road, Husbands Bosworth, Leicestershire, LE17 6NW, England.
M4 105mm VVSS (narrow tracks) - Dutch Cavalerie Museum, Amersfoort, Netherlands.
M4 105mm VVSS (narrow tracks) - Ede, Netherlands.
M4 105mm VVSS (narrow tracks) - Bastogne Barracks, Bastogne, Belgium
M4 105mm VVSS (narrow tracks) - Bastogne War Museum, 5 Colline du Mardasson, Bastogne, Belgium
M4 105mm VVSS (narrow tracks) - Private Collection, Turnhout, Belgium.
M4 105mm VVSS (narrow tracks) - Normandy Tank Museum, Catz, Normandy, France
M4 105mm VVSS (narrow tracks) - Private collection, France.
M4 105mm VVSS (narrow tracks) - Yad la-Shiryon Museum, Latrun, Israel.
M4 105mm VVSS (narrow tracks) - National Museum of Military History, Johannesburg, South Africa.
M4 105mm VVSS (narrow tracks) - School of Armour Museum, Tempe, Bloemfontein, South Africa.
M4 105mm VVSS (narrow tracks) - 2x Special Services Battalion Museum, Tempe, Bloemfontein, South Africa.
M4 105mm VVSS (narrow tracks) - National Armor and Cavalry Museum, Fort Benning, GA, USA.
M4 105mm VVSS (narrow tracks) - 1st Cavalery Division Museum, Fort Hood, TX, USA.
M4(75) turret 105mm Chassis - Private collection, France.
M4(75) turret 105mm Chassis - Piana delle Orme Museum, Italy
M4(75) turret 105mm Chassis - Museo Memoriale della Libertà, Bologna, Italy
M4(75) turret 105mm Chassis - Monumento ai Caduti, Monte Cassino, Italy
M4(75) turret 105mm Chassis - Sacrario Caduti di Montelungo, Italy
M4(105) Sherman Dozer - Yad la-Shiryon Museum, Latrun, Israel.
M4(105) Sherman Dozer - 2x French Tank Museum, Saumur, France.
M4(105) Sherman Dozer -Balmoral Green association, Versailles, France.
105mm turret - Ijsellinie kazemattenmuseum, Kornwerdsand (Netherlands.
Source - Pierre-Oliver Buan - http://the.shadock.free.fr/Surviving_Panzers.html
WW2 tank books