Normandy Tank Museum M24 Chaffee Light Tank
The Normandy Tank Museum doesn't not just have tanks used in the D-Day 6th June 1944 landings and the battle of Normandy that followed. It contains a few tanks that were used later on in the war like the M24 Chaffee. The first thirty-four M24s reached Europe in November 1944 just in time for the Battle of the Bulge.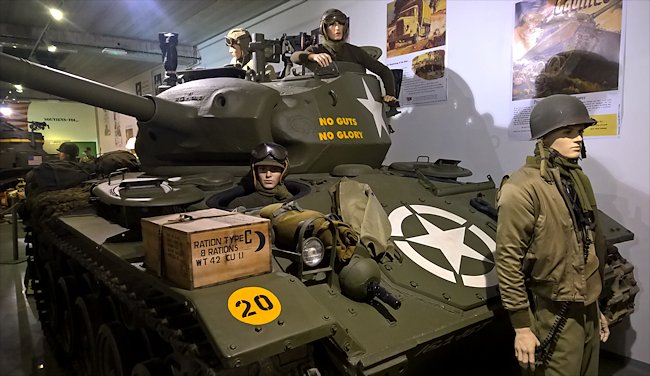 M24 Chaffee Light Tank Normandy Tank Museum in Catz
Location
The Normandy Tank Museum is not hard to miss. It is next to the main N13 (E46) motorway. Set your Sat-Nav to the town of Catz in Normandy and then the road of La Fourchette or Rue de la Fourchette to be directed to the Museum entrance.
Specifications
The M24 Chaffee light tank was a replacement for the M5 Stuart. It was powered by two Cadillac series 44T24 8 cylinder engines that produced 110 hp each. This gave the tank a top road speed of 35 mph (56 km/h) and an off road speed of 25 mph (40 km/h). It had an operational range of around 100 miles (161 km) before the crew needed to refuel the Chaffee. Although it was a light tank it still had a crew of five: commander, gunner, driver, loader, co-driver/machine-gunner/radio operator. It was produced from 1944 to August 1945 and 4,731 were made.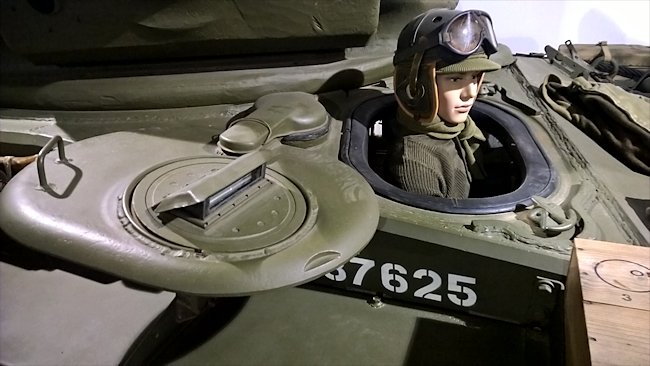 The driver and co-driver's seats in the M24 Chaffee Light tank could be raised and lowered.
For a light tank it had a powerful main gun. The Chaffee was armed with a 75 mm M6 L/39 gun which was a big improvement over the Stuart's 37 mm gun. It had a 30-60 Browning M1919A4 machine gun in a ball mount in the hull and another next to the main gun in the turret. On top of the turret a .50 cal Browning M2HB machine gun was mounted. Its protective armour thickness ranged from only 15 mm to 38mm. This really only gave protection from small arms fire and high explosive shell shrapnel.
The guns mounted on the German Panzer IV, Panther and Tiger tanks would easily penetrate the M24 Chaffee's armour. It had to rely on its speed to get out of trouble. It only weighed 18.4 tonnes. Production started in 1944 and ended in August 1945 after 4,731 had been produced. They were designed to replace the aging M5 Stuart Light tanks. The first M24 Chaffee arrived in Europe in November 1944 just in time for the Ardennes Offensive.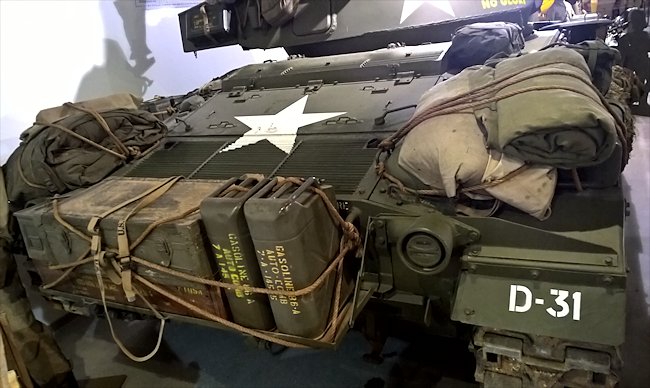 The rear of the M24 Chaffee Light tank could be used for storage.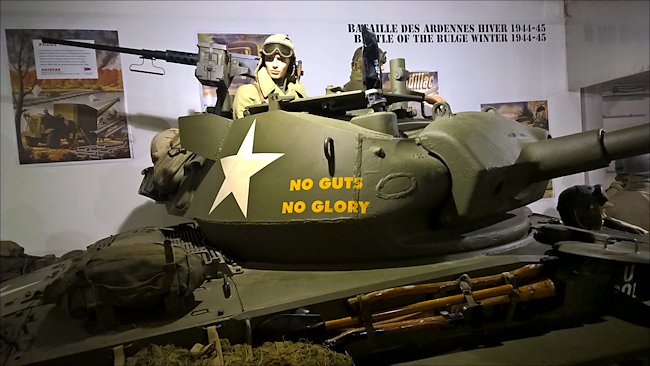 M24 Chaffee Light tank turret displaying a General Patton quote 'No guts no glory'.
D-Day 1944 books