Overlord Museum Sherman M4A1 76mm Tank
This Sherman M4A1 tank is fitted with the more powerful 76 mm long barreled high velocity anti-tank gun rather than the standard 75 mm short barreled gun. They were normally deployed amongst units of 75mm Armed Sherman tanks to give them support: one 76mm would work with three 75mm Shermans. On D-Day they landed on Utah and Omaha Beaches on the American sector of the Normandy coast line. This tank has a post war French Army serial number stamped on its chassis and looks like it served with them for a period of time during the Cold War before being replaced by more modern tanks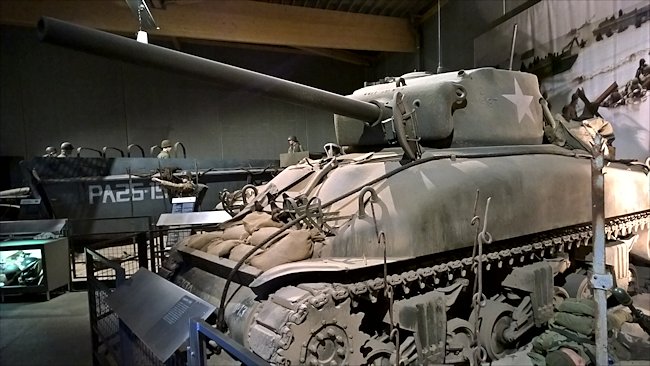 Sherman M4A1 76mm Tank inside the Overlord Museum in Normandy
Location
The nearest village to the Overlord Museum is Colleville-sur-Mer. It is on the D514 costal road Hameau du Bray. You cannot miss it as there is a M4A1 Sherman tank, M10 Wolverine Tank Destroyer and British Sexton self-propelled artillery gun outside the front by the roundabout. It is very near Omaha Beach and the American Military Cemetery.
Specification
The M4A1 Sherman Tank was powered by a petrol Continental R975 C1 9 cylinder radial engine that produced 400 hp. It had a top road speed of 30 mph (48 km/h). It had an operational range of around 120 miles (193 km) The tank had a crew of five, commander, driver, gunner, loader and co-driver/machine gunner.
Its armour thickness ranged for 25 mm to 75 mm. It was armed with the long barreled 76 mm M1 gun. It had less High Explosive (HE) and smoke performance than the standard short barreled 75 mm gun, the higher-velocity 76 mm gave better anti-tank performance, with firepower similar to many of the armored fighting vehicles it encountered, particularly the Panzer IV and StuG vehicles. It was fitted with two 30-06 Browning machine guns, one in the hull and the other next to the main gun in the turret.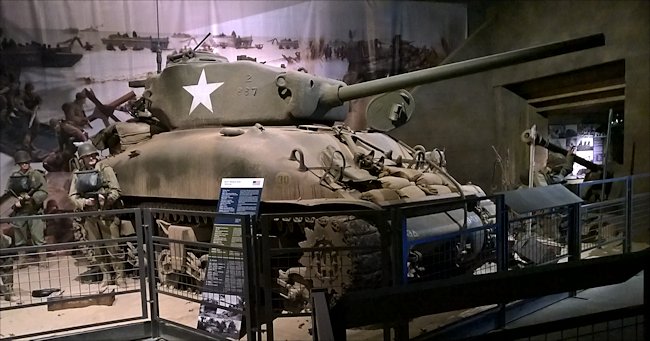 The Sherman M4A1 Tank had a cast turret and hull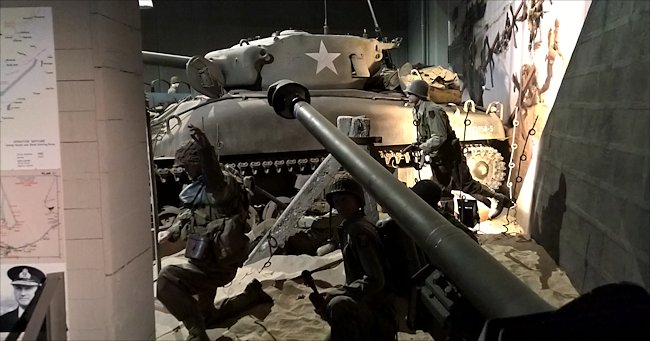 Sherman M4A1 76mm Tank in the Overlord Museum beach landing diorama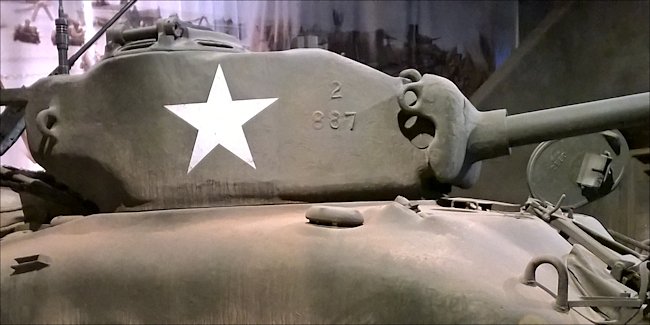 This Sherman M4A1 Tank had a larger cast turret to cope with the longer 76 mm gun
D-Day 1944 books