The Panzer III Ausf M tank replica
This German Panzer III tank Replica 211 is in private ownership and is often seen at military vehicle events in the summer in Britain like the annual "War and Peace" Show in Folkestone. The upper hull was built on top of a British cold war era FV432 armoured personnel carrier chassis. The Panzer III Ausf M varient had Schürzen side-armor panels.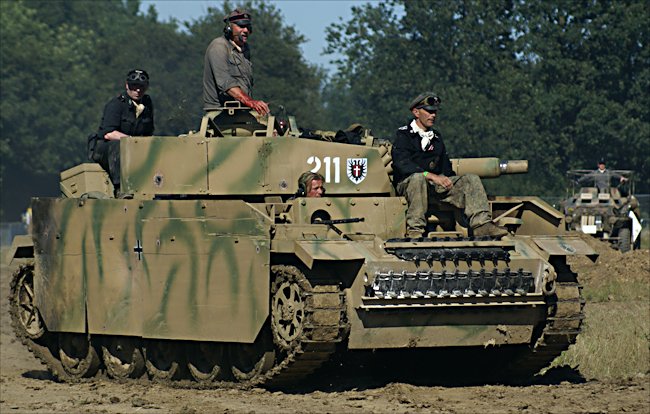 German Panzer III Ausf M tank Replica with side armour skirts
KV-1 vs Panzer III
By the end of 1941 after six month of brutal fighting and bad winter weather conditions in Russia, the German Army had lost 50% of its strength. Operation Barbarossa had failed to strike a decisive blow and capture Moscow. Hitler decided to head more south for the spring offensive of 1942 code named Case Blue. His troops would attack at five points stretching from the Caucasus up to the city of Voronezh 550 miles north.
The German High Command had sent thousands and thousands of troops and panzers to the eastern front to make up for the losses of the previous year. German tank crew member Lugwig Bauer 9th Panzer Division, had recovered from wounds he had received when his Panzer II was destroyed by a Russian KV-1 at the battle for Tulsa the previous year. He volunteered to go back to his old regiment that had now been kitted out with Panzer III medium tanks.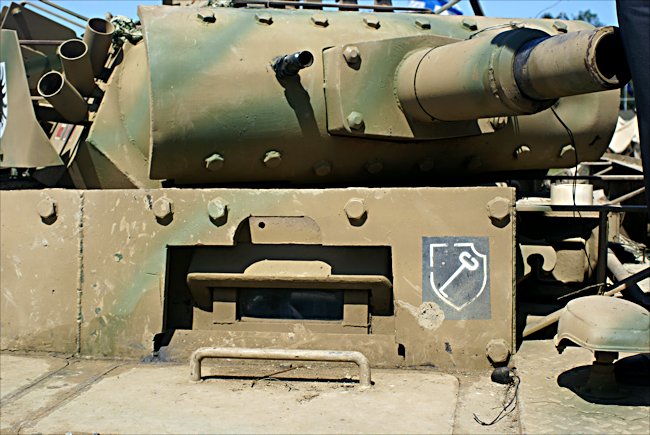 German Panzer III Ausf M tank Replica with side armour skirts
In the summer of 1942 the majority of these tanks were only equipped with a short barrelled 50mm L/40 main cannon which was ineffective against the frontal armour of the T34/76 and KV-1 Russian tanks. To improve their performance some of the Panzer III tanks were fitted with a long barrelled 50mm L/60 cannon.
"The battle of Voronezh was eminent. My company had been assigned the task of securing the left flank. We saw 20 Russian tanks driving into the valley at the distance of about 2km. They said we had to let the Russian tanks come closer to us and then try to shoot them. Our problem with the Panzer III remained the same as the Panzer II, we could only fight the Russian tanks at close range because our cannon's performance was not good enough."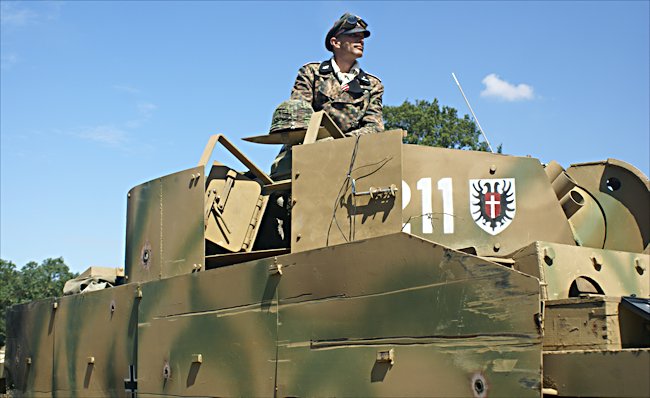 German Panzer III Ausf M tank Replica with side armour skirts
"The Russians then made a move to the side and suddenly they appeared from our left as close as 300-400 metres. They should have kept their distance and used the advantage of their better long range guns and thicker frontal armour. We had a chance if they were close. They charged and then started the tank battle. I was able to shoot down a T34 that was about 100 metres away, but at the same time my tank was rammed by a Russian KV-1. The tanks were notched into each other. The Russian got hit and could not turn its turret anymore. He backed up and rammed into my tank two or three times. Then he pulled back to a distance of 10m and shot. Our tank caught on fire immediately in the engine bay. We got out."
WW2 tank books