PzKpfw 38(t) Ausf. F Tank
This Panzer 38(t) Ausf. F light Tank is part of the Steve Lamonby Collection based in the UK. It is in a running condition and can be seen at historic military vehicle events around Great Britain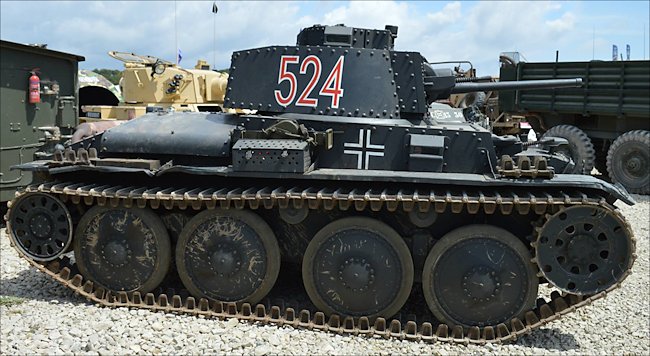 Panzer 38(t) Ausf. F light Tank is part of the Steve Lamonby Collection based in the UK
Specifications
The Panzer 38(t) Ausf. F was powered by a Praga Typ TNHPS/II water-cooled 6-cylinder petrol engine that produced 123.3 hp. It had a top road speed of 24 km/h (26 mph) and an off road speed of 15 km/h (9.3 mph). It had an operational range of around 250 km (160 miles) on the road and 100 km (62 miles) off road before the crew needed to refuel. It had a four man crew and they were protected by armour that ranged in thickness from 8 mm to 50 mm. The Ausf E, F and G versions had improved armour from the original 30mm maximum. The tank was armed with a 3.7 cm KwK 38(t) L/47.8 gun and two 7.92 mm ZB-53 (MG 37(t)) machine guns: one in the hull and the other next to the main gun in the turret.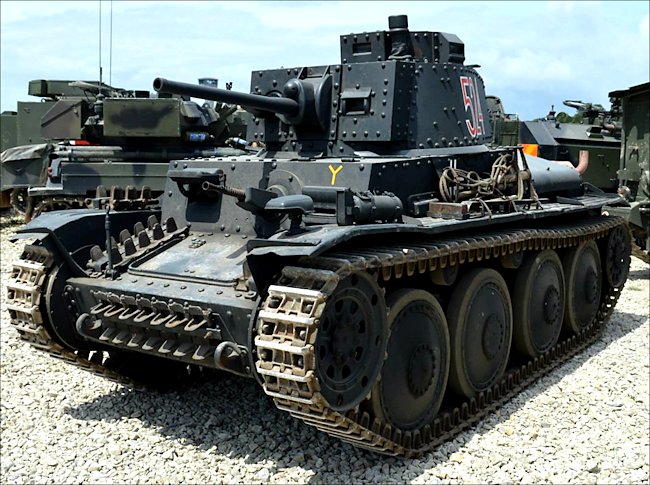 Panzer 38(t) Ausf. F light Tank is part of the Steve Lamonby Collection based in the UK
This tank's story
The Steve Lamonby Collection is a private collection. Apart from at events the tank can not be viewed by the public. I hope suitable premises will be found where this and other machines can be put on display soon. During the restoration the original markings were found. The tank has been identified as belonging to the 5th company Panzer Regt 25 of the 7th Panzer Division that was involved in Operation Barbarossa, The invasion of the Soviet Union.
The Czech built PzKpfw 38(t) equipped the 7th and 8th Panzer Divisions in the German invasion of France in 1940 and by June 1941 of the seventeen Panzer Division used in the invasion of the Soviet Union six were equipped with Czech built tanks including 660 Panzer 38(t). This meant that Czech tanks accounted for a quarter of the invading German Army tank force. The PzKpfw 38(t) light tank was withdrawn from front line service in 1942.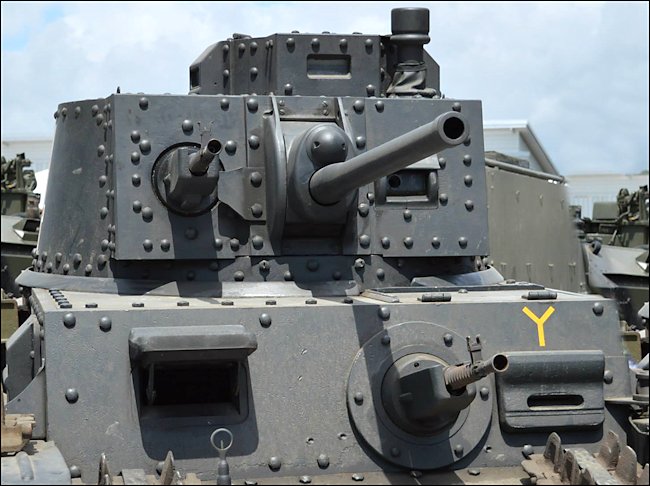 Note the pre WW2 riveted armour desing on this Panzer 38(t) Ausf. F Tank's turret
According to the owner, Steve Lamonby the tank was sourced in Eastern Europe in big lumps. The final colour was dark sand but under this were the clear remains of the call signs and markings of 7th Panzer Division. The Praga manufacturer's plate gives a chassis number 769, which according to their records is a chassis produced in June 1941. All the parts of this tank correspond to an Ausf. F variant. Potentially the tank could have been at the gates of Moscow in December 1941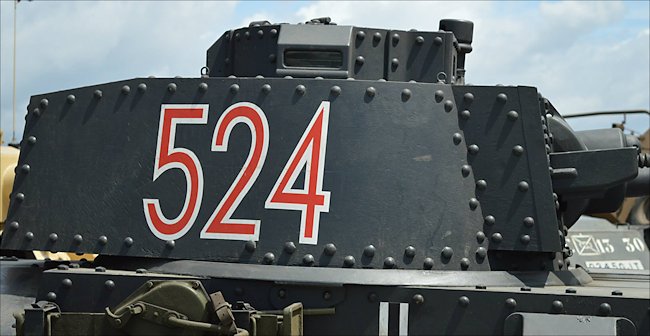 Riveted armour was easier and faster to construct compared with welded armour but not as strong.