This German Panzerspähwagen II Ausf. L (VK 13.03) Luchs Light Tank (Sd.Kfz. 123) can be found at the French Tank Museum in Saumur in the Loire Valley. Luchs is the German word for a Lynx, a medium sized ferocious wild-cat.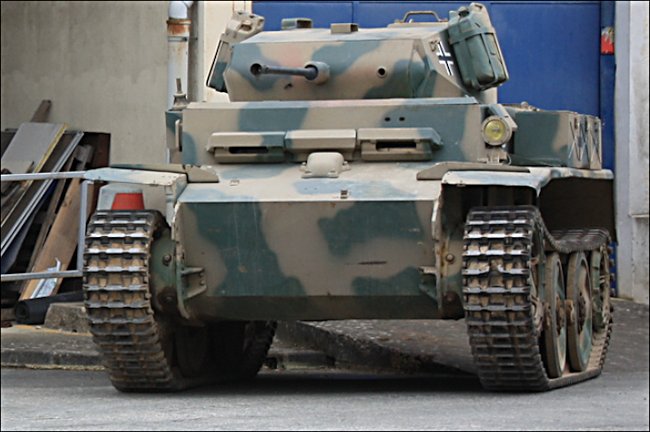 German Panzer II Luchs Light tank (PzKpfw II Ausf. L Sd.Kfz. 123) at the French Tank Museum
These photographs were taken in May 2013 during the French Tank Museum's open day. When I returned to the tank museum in 2014 it was not part of the normal display of German tanks. It was in storage and only let out to play on special days. I hope they change their mind and put it permanently on display. It is a very rare tank. The only other preserved Panzer II Luchs light tank is on display at the Tank Museum, Bovington, Dorset, England. A group of American tank enthusiasts are currently building a working replica of a Luchs in the USA. They hope to have it become a film star on the next Hollywood WW2 film. They already have a Panzer III used on the film War Pigs. You can check on their progress at http://panzerfabrik.net
The most striking difference between a Panzer II Ausf. L Luchs and previous Pz II version is the complete change in suspension and road wheels. It was manufactured with the Schachtellaufwerk overlapping/interleaved road wheels and slack track configuration seen on larger tanks like the Panther and Tiger. It had high speed and good off-road performance which was ideal for the reconnaissance role it had to perform. Between September 1943 to January 1944 104 Luchs tanks were built. It was the final version of the Panzer II light tank to be produced.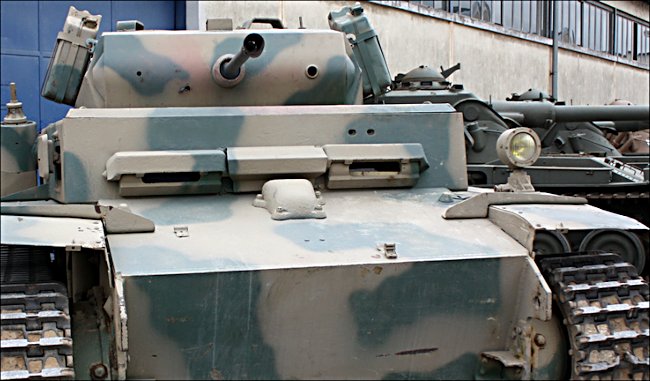 German Panzer II Luchs Light tank (PzKpfw II Ausf. L Sd.Kfz. 123) at the French Tank Museum
It had a maximum road speed of 37mpg (60km/h) and a cross country maximum speed of 26mph (42 km/h). the large hull enabled bigger fuel tanks to be fitted so the Luchs had an increased range of around 180 miles (290 km). It had a six speed gear box plus revers. It was armed with a 20mm KwK 38 L55 cannon and could carry 330 rounds. The Lynx tank crew's job was to spot enemy units, radio their position and then retreat, unseen if possible. Its 20mm gun could not knock out an Allied tank but it could take on soft skinned vehicles, gun emplacements and infantry. For additional protection it also had a coaxial 7.92mm MG-34 machine gun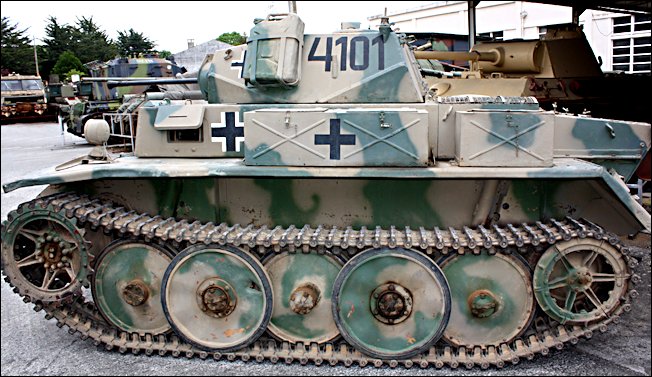 German Panzer II Luchs Light tank (PzKpfw II Ausf. L Sd.Kfz. 123) at the French Tank Museum
The Luchs had a new chassis that was slightly longer, taller and wider than previous versions of the panzer II. Its length was 4.63 m and was now 2.21 m tall and it was 2.48 m wide. Its armour was improved to 30mm thick ness on the sides and front. The tank was fitted with an improved radio, the FuG12 MW receiver and 80-watt transmitter, which meant it had a better range on the battlefield. These tanks fought on the Western against the advancing Allied armies and on the Eastern Soviet front up until the end of the war.
Where can I find other preserved Panzer II Tanks?
Pz Kpfw II Ausf. C - Musée des Blindés, Saumur, France
Pz Kpfw II Ausf. C - Kalemegdan Military Museum, Belgrade Serbia
Pz Kpfw II Ausf. C - Military Historical Museum, Lenino-Snegiri, Russia
Pz Kpfw II Ausf. C - Canadian War Museum, Ottawa, Canada
Pz Kpfw II Ausf. C - Wreck, Andre Becker Collection, Belgium
Pz Kpfw II Ausf. F - Bovington Tank Museum England
Pz Kpfw II Ausf. F - Kubinka Tank Museum, Russia
Pz Kpfw II Ausf. F - National Armor and Cavalry Museum, Fort Benning, GA, USA
Pz Kpfw II Ausf. F - Westwall Museum, Pirmasens, Germany
Pz Kpfw II Ausf. L "Luchs"- Bovington Tank Museum England
Pz Kpfw II Ausf. L "Luchs"- Musée des Blindés, French Tank Museum Saumur, France
Pz Kpfw II Ausf. L "Luchs" Replica - Private collection, America
Source - Pierre-Oliver Buan - http://the.shadock.free.fr/Surviving_Panzers.html
WW2 Tank Books