Renault UE Chenillette Carrier
Renault UE Chenillette Carrier did not see action in the WW2 Battle of the Bulge. This surviving Renault UE Chenillette Carrier is kept at the Bastogne Barracks in Belgium.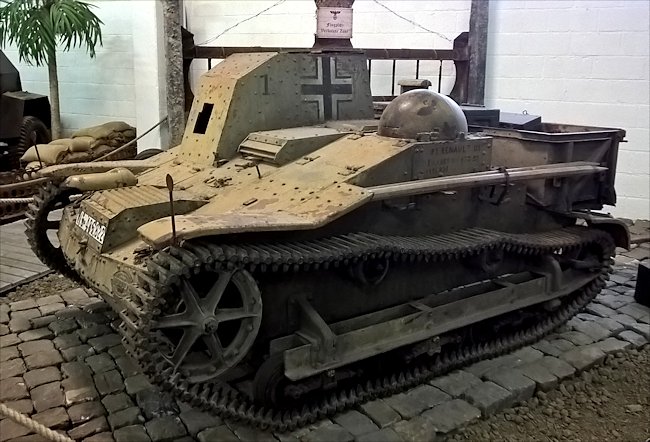 This surviving German Gepanzerte-MG-Trager Reanult UE(f) Chenillette Carrier is exhibited at the Bastogne Barracks in Belgium.
Location
The Bastogne Barracks can be found at 40 Rue de la Roche (N834) in Bastogne just north west of the city centre. They open at 10am and close at 4pm. You really need to get there by 2pm as there is a lot to see. It is an operational military camp with a tank restoration centre attached. You have to wait to go on a guided tour. You cannot wander around on your own. The only day it is closed is Monday. Many of the tanks have been restored to running condition. Have a look at their Facebook page for information about new events.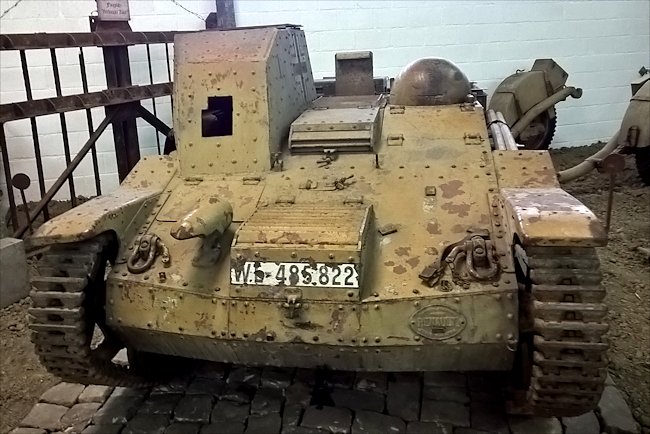 This Gepanzerte-MG-Trager Renault UE(f) was armed with a 7.92mm MG15 and not the normal 7.92mm MG 34 machine gun.
Specifications
It was powered by a Renault Type 85 4 cylinder petrol engine that produced 35 hp. It had a top speed of 30 km/h (19 mph). It had an operational range of 100 km (62 miles) before needing refueling. The armour plating thickness was only 9mm which was just enough to protect the crew from small arms fire and artillery shell shrapnel. it had a two man crew. They were produced between 1932 and March 1941. A total of 5,168 were made.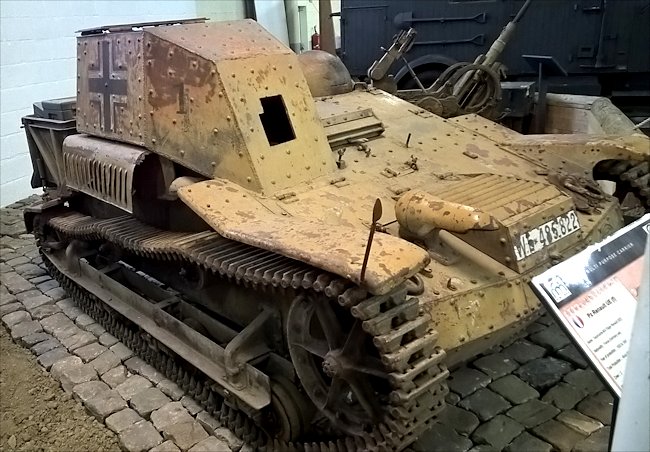 The German 7.92mm MG 15 machine gun was fitted into the metal armoured tower where there is now a hole. It was used by the Luftwaffe and outfitted as a mobile command post.
Development of the Renault UE
In the late 1920s Senior French officers had observed the effectiveness of the British Carden-Loyd universal carrier. The French army wanted their own unarmed armoured tracked vehicle that could carry guns, mortars, supplies and ammunition on the battlefield. It also had to be able to tow a tractor-trailer. The army wanted it to be able to perform scouting missions for the infantry and artillery.
Two French companies submitted prototypes for evaluation. Renault won the contract. In December 1931 the French government ordered the first 50 to be built. It was designed to have a very low profile so making it a difficult target. The front section of the hull was steeply sloped and ended in a flat section with a two crew hemispherical armoured hoods were mounted.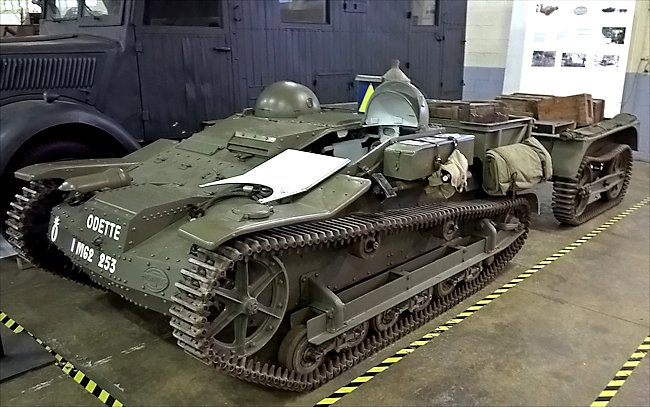 This preserved French Army Renault UE2 Chenillette Carrier is exhibited at the Bastogne Barracks in Belgium.
The front section of the hood could be slid backwards for normal driving conditions. But when on the battlefield armoured front section is slid back into position and vision given to the crewmembers by slits cut into metal. The rear part of the tankette comprised of a large storage bin. It could be tilted for easier unloading and could carry a payload of 350kg. The towed tractor-trailer could carry 600 kilograms of equipment. They were issued to supply units of the French army.
Each French infantry Regiment received nine Renault UE tankettes carrying supplies. Anti-tank brigades CCDAC) were issued with three each to be used for supply and scouting functions. Each French Division had 30 Renault UE tankettes. In Mechanised Infantry Divisions each anti-tank brigade were given 12 tankettes. French Army Mortar Companies had two each
They were used in the defence of France to carry supplies and scout enemy positions during the German invasion of May 1940. None of the Renault UE carriers that were used by the French Army in 1940 were fitted with machine guns. Those that were not destroyed were captured and put to use by the German army after France surrendered.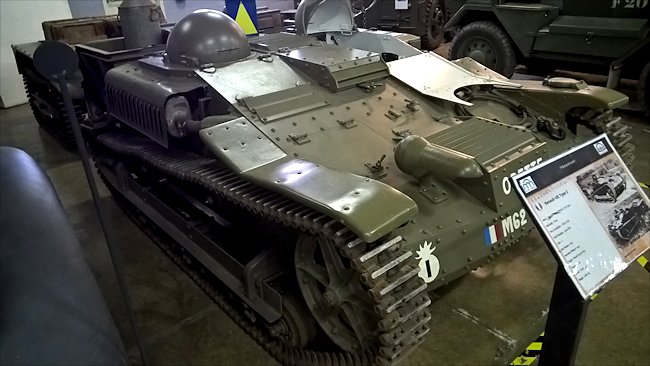 This Renault UE Chenillette Carrier has been restored to how it would have looked in French Army livery in 1940.
Captured German Renault UE tankettes
In the summer of 1940 the German Army suddenly became the proud owners of about 3000 French built Renault UE tankettes. They quickly painted them with the black and white cross and put them to work as originally intended as armoured military supply vehicles. They were given the German army designation of UE-Schlepper 630(f).
A few were fitted with armoured hatches over the rear storage bin to give additional protection to ammunition being carried to forward positions. These versions were given the designation of Munitionsschlepper Renault UE(f). Some Renault UE tankettes were fitted with reinforced towing brackets and used as tractor units for German anti-tank guns.
Many were converted to carry machine guns. They were called Gepanzerte-MG-Trager Reanult UE(f). It was armed with a 7.92mm MG 34 machine gun that was fitted into an armoured tower replace one of the crew's hemispherical armoured hoods. They saw action in Normandy following the D-Day landings in the 6 June 1944.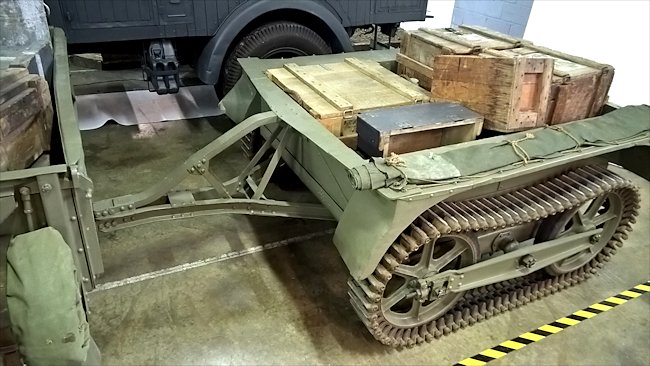 Renault UE Chenillette Carriers towed a tracked trailer that could carry a 600kg payload.
Read more in these two tank books