Utah Beach M4A2 Free French Sherman Tank
This memorial is to commemorate the Free French landings on the Utah beach and their battle casualties. The French Army 2nd Armoured Division (2e Division Blindee) did not land on D-Day 6th June 1944 but later on 1st August 1944. The Division was commanded by General Leclerc and they joined General Patton's 3rd Army. The only free French troops that landed on D-Day were the green berets Commando Kieffer in Ouistreham. The memorial is situated on the D421 coast road a few miles north of the Utah Beach D-Day Landing Museum. The easiest way to find this monument is to go to that museum, which is well sign posted, and just drive up the coast.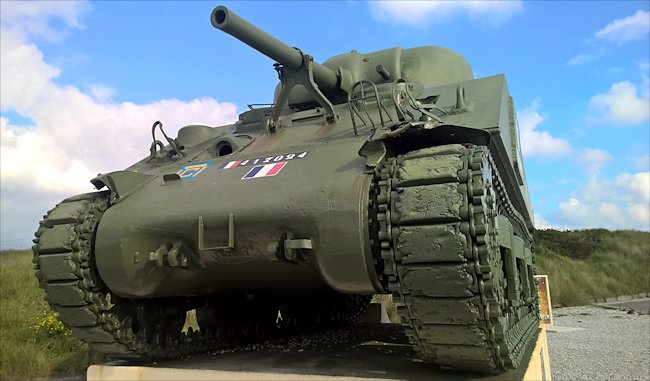 The M4A2 Sherman Tank Free French Utah Beach D-Day 6th June 1944 Memorial
Location
There are no close towns or villages you can type into your Sat-Nav navigation device. It is on a bend 200 yards from the junction where the D421 meets the D423. Some way back from the cost is the village of Saint-Martin-de-Varreville.
If you type that village into your Sat-Nav and choose the town centre option you will find the D423 as it is the major road that goes through the middle. Head north out of town on the D423 and after 1 km it bends to the right hand heads straight for Utah Beach.
Specification
The M4A2 Sherman Tank was powered by a General Motors GM 6046 twin diesel (conjoined 6-71s) engine. It was a 12-cylinder twin bank version of the General Motors series 71 six cylinder supercharged two-stroke diesel. It produced 410 hp. It had a top road speed of 30 mph (48 km/h). It had an operational range of around 120 miles (193 km).
The tank had a crew of five, commander, driver, gunner, loader and co-driver/machine gunner. Its armour thickness ranged for 25 mm to 75 mm. It was armed with the standard 75 mm M3 L/40 gun and two 30-06 Browning machine guns, one in the hull and the other next to the main gun in the turret. Between April 1942 and May 1944 8,053 were manufactured.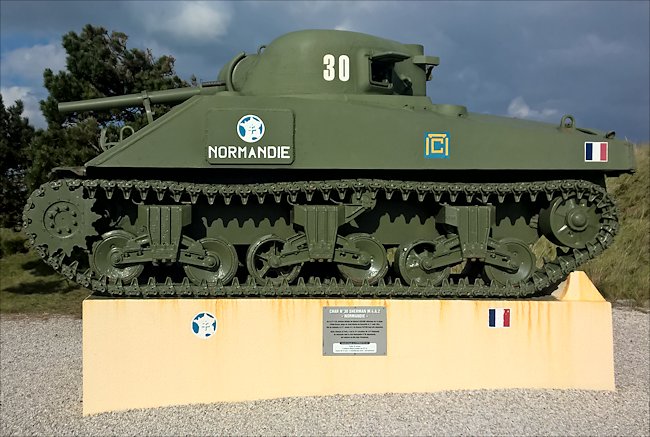 M4A2 Sherman Tank had additional armour plates welded on the side of the tank over the drivers head position
It is funny how the French landings on D-Day are the furthest away from the British as they possible could. Was this because Winston Churchill could not stand the sight of General De Gaulle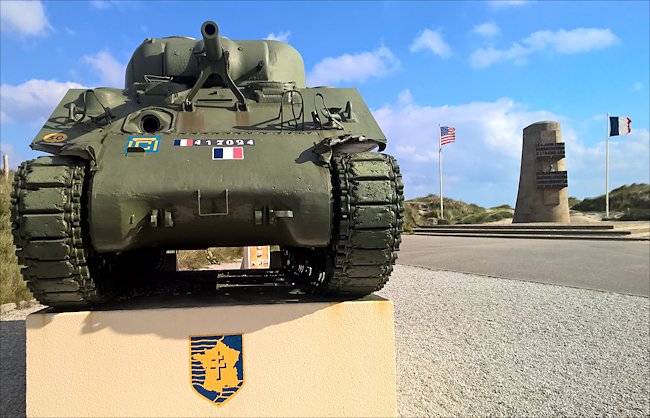 The M4A2 Sherman Tank was armed with a short barreled 75 mm gun and two machine guns.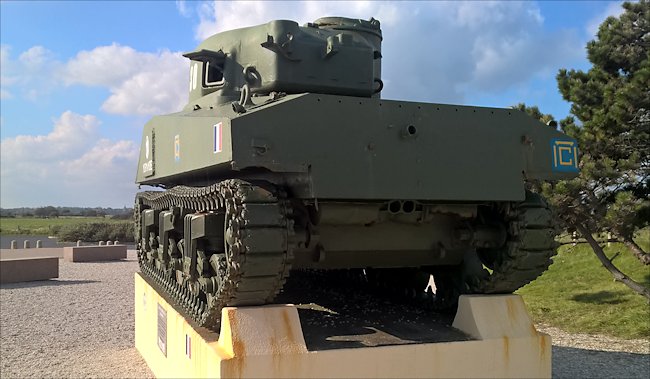 M4A2 Sherman Tank Free French Utah Beach Memorial.
D-Day 1944 books