This is a Renault NC 27 tank built in 1927 and purchased by the Swedish Army for trials. It had a number of mechanical faults and was rejected as a possible replacement tank.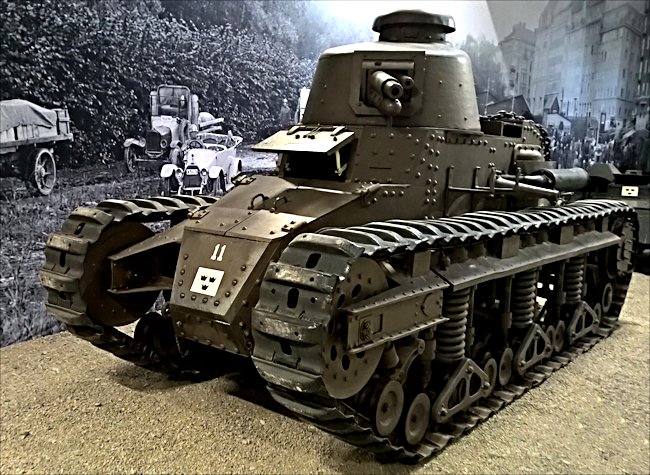 Swedish fm/28 tank Renault NC27 NC1 can be found at the Arsenalen Tank Museum near Stockholm
The Swedish Army purchased ten German WW1 LK II tanks in 1921. They called them Strv m/21 tanks. After initial trials they found that these tanks had their limitations so the Swedish Military started their hunt for replacement vehicles. They were also looking at the option of obtaining a than that was fitted with a cannon and not just a machine gun.
The Swedish military also purchased a WW1 Renault FT model 1917 tank (later known as the Renault FT-17) for trials. It was the most numerous tank produced in WW1: over 3,000 came of the production line. It was the first tank to be fitted with a rotating turret. Initially they were only armed with one 7.5mm Reibel machine gun but later models were fitted with a 37mm Puteaux SA18 short-barreled Gun. This seemed like the answer. It was massed produced. There were many still available after the war which were now surplus to requirements.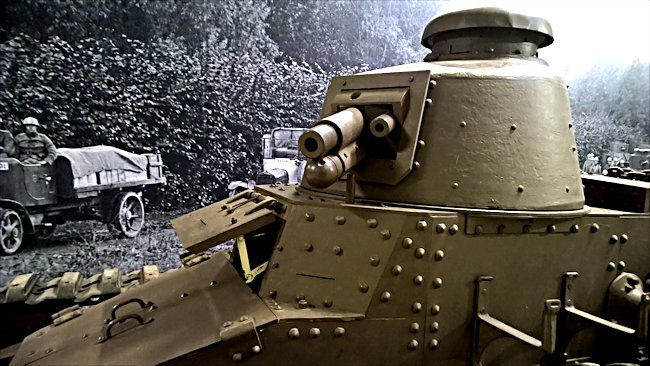 Swedish fm/28 tank turret housing a Puteaux 37mm cannon
The Renault FT-17 that Sweden purchased had seen combat. It had battlefield damage. It was fitted with a 37mm cannon. It weighed less than the German built LKII m/21 tanks but it was slower. It only had a top road speed of 9km/h compared with the larger tanks 16 km/h. It could not keep up with the German built tanks during exercises.
The vehicle was worn out and kept on breaking down with engine problems. In August 1927 the Renault FT-17 was rejected as a replacement vehicle. It served as a command vehicle for some years before ending its life as a target on a firing range. The need to find the next generation of Swedish Army tanks was becoming ever more urgent as it was becoming very problematic to find spare parts for the LKII Strv m/21 tanks. The mechanics were having to cannibalise five of them so five remained road worthy.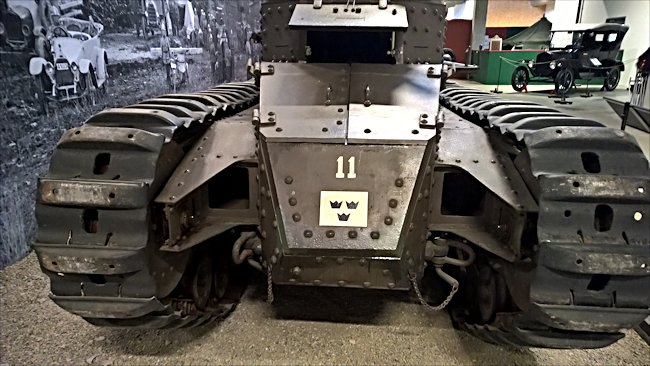 Swedish fm/28 tank tracks had poor grip
Several fact finding trips were made across Europe, Renault had developed a new prototype tank based on its successful FT-17. The named this new tank the Renault NC model 26/27 (later referred to as NC 27). The armies of Japan and Poland were also interested in this tank and later purchased them. The Swedish Army purchased one test vehicle was as a possible replacement for the Stridsvagn m/21. The Renault NC 27 was called the Stridsvagn fm/28 in Sweden. The letter 'f' in the name signified that it was a test vehicle and the number the year it was introduced to the Swedish Army.
It was an improvement on the original Renault FT-17. It had better frontal armour protection: it was now 34 mm thick. This pushed the tanks weight up to 8.5 tons. A more powerful engine of 60 HP gave the tank nearly double the maximum road speed of the Renault FT-17 at 20 km/h and was faster than the Strv m/21 tanks by 4 km/h. There was no change in its turret gun. That was still a 37 mm Puteaux cannon.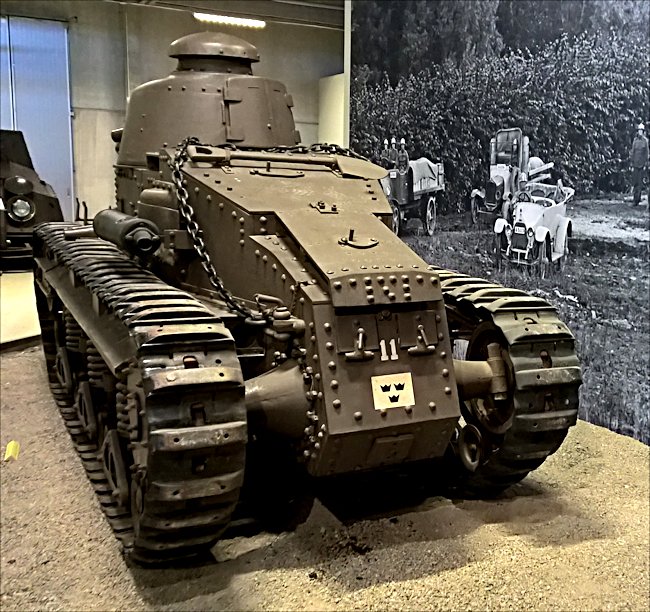 Swedish fm/28 tank Renault NC27 NC1 rear view
On its first test exercise at Järvafältet the tank had to be towed back because of a mechanical breakdown. Its gearbox and clutch were cause for concern. After five more battlefield tests were conducted the results were the same. The Renault NC 27 Strv fm/28 was not mechanically reliable. Another problem were the tank's tracks. They did not have enough grip. They seemed to skate and slip on the Swedish terrain. The French Army rejected this new Renault prototype and so did the Swedish Army.
It was decided instead that a new battle tank would be developed within the country. The requirements for the new Swedish tank was that it should be fitted with a cannon as well as a machine gun, it must have good mobility on the Swedish terrain and have armour protection against fire from a 37 mm gun. The total weight should not be more than 12 tons so as to allow it passage over bridges Swedish country bridges.
It was used as a command tank for a while before spending the rest of its military life as a driver training vehicle at the Göta Life Guards tank battalion. This is the vehicle now kept at the Arsenalen Swedish Tank Museum outside Strängnäs.
Tank books