In terms of tank design Japan was not as progressive as most other belligerents in the Second World War. For example the Type 95 was produced in 1935 (year 2595, Japanese Imperial Calendar) and remained in front line service throughout the war. The tanks were produced by Mitsubishi Heavy Industries who are believed to have built over one thousand of this model.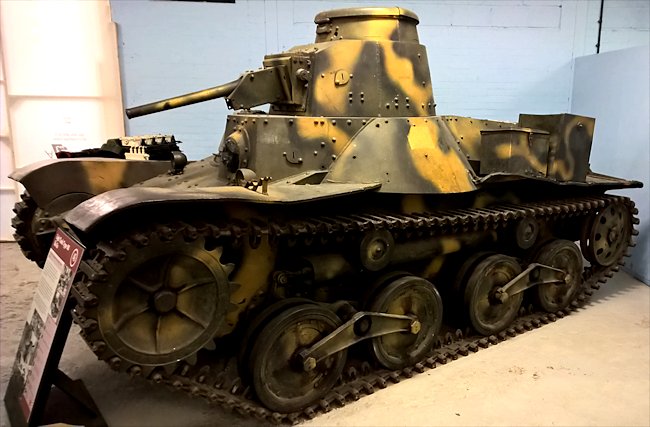 Type 95 Ha-Go Japanese WW2 light tank at Bovington Tank Museum
Location
This Japanese Type 95 Ha-Go light tank is looked after at the Tank Museum, Linsay Road, Bovington, Dorset. The nearest train station is Wool Railway Station. You can walk the 2 miles to the Museum but there are not pavements along the country road and if you are travelling with children it can be dangerous. It takes 45 minutes by foot.
There is an irregular bus service from Wool Station that will get you to the museum but they only come once an hour in the morning starting after 9.30. The last bus back to the station from the Tank Museum is just after 13.45 which is really silly. There is no Sunday bus service. The easiest way to get to the museum from the train station is by taxi. They can be pre booked with Garrison Cars to meet you when your train arrives and pick you up for the return trip from outside the museum. Their phone number is 01929 463395.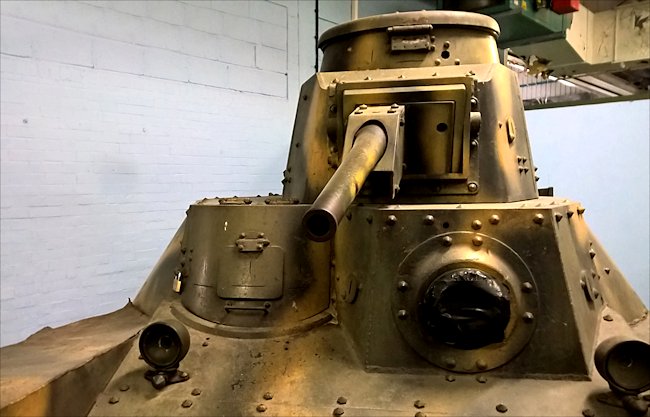 The 37mm anti-tank gun and 7.7mm hull machine gun position on the Japanese WW2 Type 95 Ha-Go light tank
Specifications
The Imperial Japanese Army's Type 95 Ha-Go light tank was designed in 1933 and produced between 1935 and 1943. Records show that2,300 were built. It had a crew of three: commander/gunner, hull machine gunner and driver. It had an armour thickness that ranged between 6 mm and 16 mm. it weighed 7.4 tonnes.
It was armed with a 37 mm type 98 anti-tank gun and two 7.7 mm type 97 machine guns. It was powered by a Mitsubishi A6120VDe air-cooled inline 6-cylinder 14.4 L diesel engine and produced 120 hp. It had a maximum road speed of 45 km/h (28 mph) and a range of 250 kilometres (155 miles).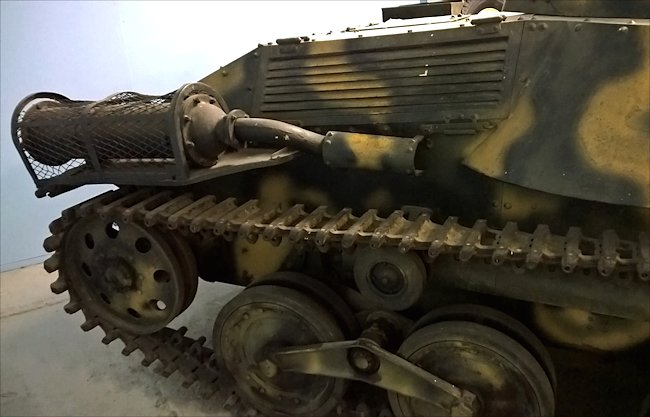 The rear exhaust on a surviving Japanese WW2 Type 95 Ha-Go light tank
Development of the Type 95 Ha-Go tank
The most advanced feature was undoubtedly the air-cooled Mitsubishi Diesel although the suspension was simple and rugged. However the method of construction, using bolts and rivets was very dated by 1942. More modern tanks were cast or welded together. The interior of the tank was cramped and uncomfortable, especially for anyone trying to operate the rear turret machine-gun, and it is interesting to note that the main gun could move independently of the turret.
The markings indicate a tank of 14th Sensha Rentai (Tank Regiment) in 3rd Sensha Shidan (Tank Division) around 1941. This Type 95 was captured in Malaya and was examined in Calcutta before being sent to Britain. Surviving Japanese tanks from the Second World War are extremely rare.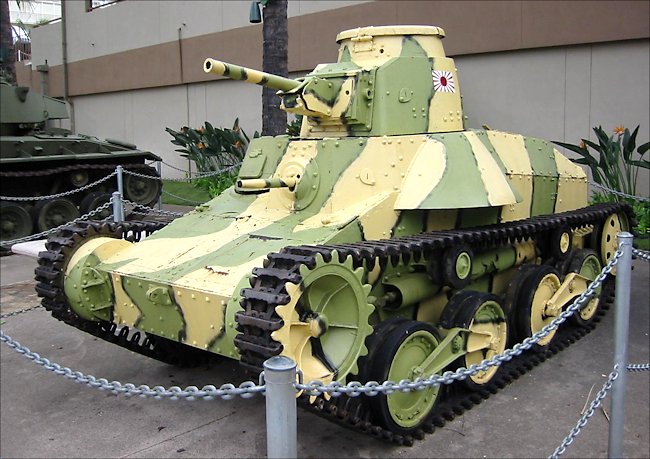 Surviving Japanese WW2 Type 95 Ha-Go light tank in Battery Randolf US Army Museum, Honolulu, Hawaii, USA
Where can I find other preserved Type 95 Ha-Go Light Tanks?
Bovington Tank Museum, England
Central Museum of the Great Patriotic War Museum 1941 - 1945, Park Pobedy, Moscow, Russia
Tank Museum in Kubinka, Russia
In Running condition, Private Collection, Russia
Yuzhno-Sakhalinsk, Sakhalin Island, Russia
Armoured Corps Museum, Ahmednagar, Maharashtra, India
The Cavalry Centre, Fort Adison, Saraburi, Thailand
National War Memorial, Pathum Thani, near Bangkok, Thailand
Royal Thai Infantry Barracks, Lampang, Northern Thailand
Wirathai Monument, Nakhon Si Thammarat, Thailand
Royal Thai Army Base, Nakhon Sawan, Thailand
2x Royal Thai Army (RTA) Special Warfare Center, Fort Narai, Lopburi province, Thailand
3rd Army Museum, Phitasanulok, Thailand
U.S. Army Center for Military History Storage Facility Anniston, AL, USA
National Armor and Cavalry Museum, Fort Benning, GA, USA
Indiana Military Museum ,Vincennes, IN, USA
National Museum of the Pacific War, Fredericksburg, TX USA
Oregon Military Museum, Clackamas, OR, USA
US Army Museum, Honolulu, HI, USA
Australian War Memorial, Canberra, Australia
The Japanese Tank Farm, Kolonia Pohnpei Island,Micronesia
Kolonia, Pohnpei Island, Micronesia
Source - Pierre-Oliver Buan - http://the.shadock.free.fr/Surviving_Panzers.html
WW2 Tank Books