This WW1 British Mark IX Armoured Personnel Carrier Tank can be found at the Tank Museum, Bovington, Dorest, BH20 6JG, England. Their website is tankmuseum.org.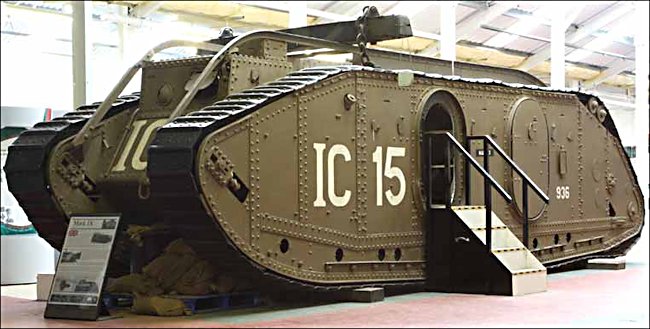 WW1 British Mark IX Armoured Personnel Carrier Tank
In 1916 the British have witnessed how effective the Mark I tank was on the World War I battlefield. Tanks had the ability to crush enemy opposition by cutting through rows of barbed wire and over the top of defensive trench systems. This was something that the infantry could not do on their own.
The high command also realised that tanks were vulnerable without infantry support. Discussions were had in army headquarters to find a solution where infantry could safely follow tank formations and deal with enemy infantry. The idea was hatched of turning a tank into an armoured personnel carrier. This became the Mark IX tank.
Mark nine tank could also be used as an armoured resupply vehicle that could keep pace with the new armoured columns crashing through enemy defences. They would negate the need for British tanks to pull out of the frontline and return to the British lines to obtain more ammunition and fuel.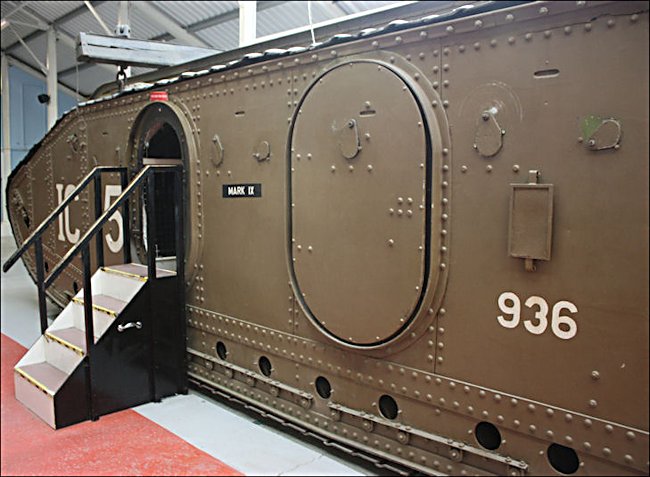 WW1 British Mark IX Armoured Personel Carrier Tank
The British Mark IX Armoured Personel Carrier was designed so that it could be retrofitted with forward facing cannons. This was a practical consideration in case there was a need for more main battle tanks that could fire high explosive shells.
The Mark IX Armoured Personel Carrier Tank was based on the Mark V British tank. It had an extended body to assist in crossing wide German trenches and to expand the internal capacity of the vehicle so that it could carry more troops. The tank had a crew of four but had the capacity to carry 30 soldiers with full kit. There were no comforts for the troops included in the design. There is no separate section for the combat troops. They had to endure the rancid choking smells of the engines just like tank crew.
The Mark IX Armoured Personel Carrier could defend itself. It was armed with two 7.7mm Hotchkiss machine guns. Each side was also fitted with eight gun ports through which combat troops could fire their personal weapons at enemy infantry positions.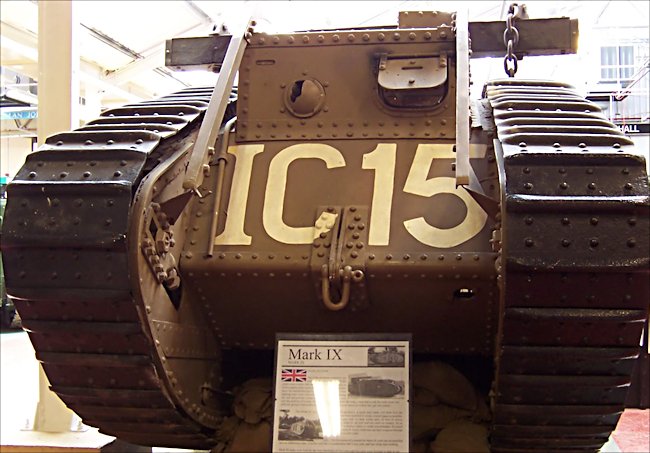 WW1 British Mark IX Armoured Personel Carrier Tank
The British Mark IX APC could only just keep up with the main battle tanks. Its single Ricardo six cylinder gasoline engine of 150bhp gave the vehicle a top speed of only 3.5 mph on a good flat road. Cross-country speed were a lot slower. It may have been slow but the 10 mm armour plating kept the troops safe from enemy small arms fire. It enabled troops to be carried across no man's land in relative safety. This was something unthinkable in the first two years of World War I.
Production started in September 1917, but only 30 Mark IX armoured personnel carriers were made before the end of the war in November 1918. When they were deployed on the battlefield, they proved to be a useful military tool. They were made by Armstrong Whitworth and company of Newcastle-upon-Tyne.
WW1 Tank books