This Surviving WW1 and Russian Civil War Mark V Female Tank can be found in Severodvinsk, Arkhangelsk (Archangel) in North West Russia. It was sent by Briton to help the White Russians fight the communist Red Army. It was captured and used by the Red Army on the Southern Front. It was turned into a 1919-1922 Civil War memorial in 1938 but has only recently been restored and displayed in an all weather protective pavilion.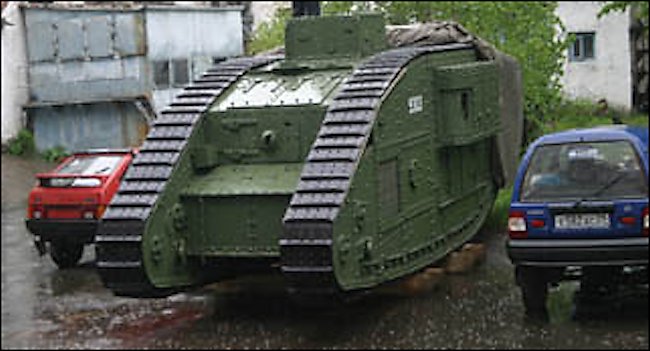 Recently restored WW1 Red Army Mark V Female Tank in a car park Severodvinsk, Arkhangelsk (Archangel) in North West Russia.
On 20 October 1940, the monument of the tank Mk V No.9303 was officially unveiled at Pavlin Vinogradov Avenue in the city of Arkhangelsk, next to the building of the Regional Museum.
Research by the city's historian has found out that this tank was not the vehicle captured by Red Army in Arkhangelsk in North West Russia as previously thought. It turned out to be one of the trophies captured by Soviet troops on the Southern front, probably near the city of Taganrog. No evidence or documents have been found yet how and where the White Army operated this tank.
The first mentioning of this vehicle in the Red Army are found in the documents stating that on 2 October 1920 it arrived for repair from Moscow to Kharkov locomotive works, where it was located in 1921-1923.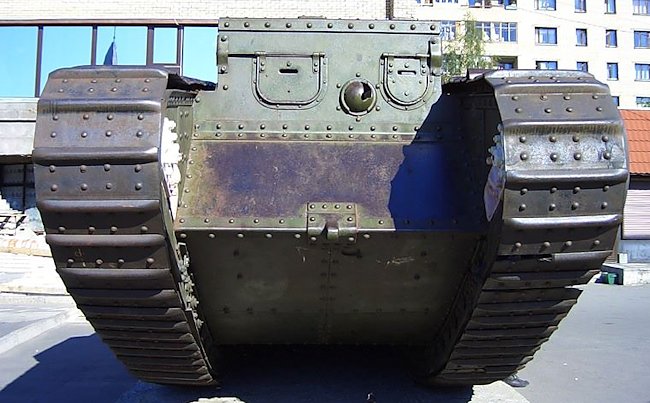 WW1 Red Army Mark V Female Tank Severodvinsk, Arkhangelsk (Archangel) in North West Russia.
There is little information about the vehicle's further fortune, but after the year of 1923, it was itemized in one of the units of Moscow military command.
On 1 May 1930, the crew of the tank No. 9303 took part in the parade on Red Square in Moscow. By that moment, it had been removed from service in Red Army troops like other Mk V vehicles, and after that, it was not used anymore.
Since April 1930, it was registered in the military stocking depot No. 37. The tank record card, unfortunately, doesn't allow to reconstruct the history of this vehicle usage in Red Army, as the record card was filled in already at the stock, after removing from service. Besides the tank hull number – 9303, its engine number – 22106 was known from the record card and format.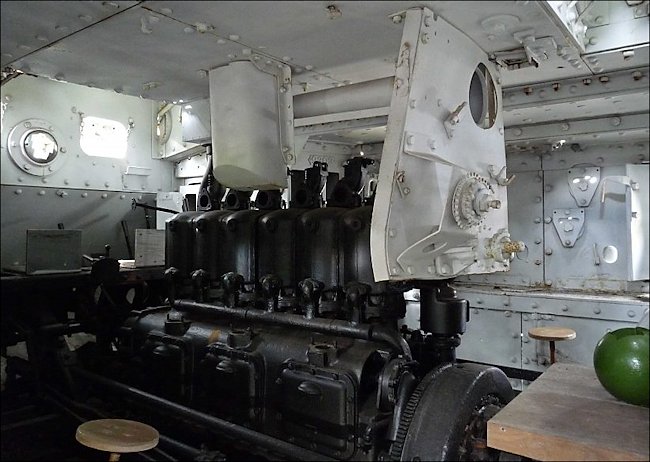 The Mark V Female Tank's Engine
Pavlov, Head of the armoured and automotive department sent a proposal to Kliment Voroshilov, People's Commissar of National Defense that 14 obsolete tanks should be sent to the cities of Smolensk, Rostov-on-Don, Kharkov, Leningrad, Kiev, Voroshilovgrad and Arkhangelsk to be used as historical monuments, and 1 tank was sent to Armoured vehicles research test site to be used as an exhibit.
Arkhangelsk political authorities agreed to set up the tank they were sent as a monument. On 20 September 1938 the Female Mark V tank No. 9303 was sent to Arkhangelsk and in summer 1939 it was set up on the city as a monument by an order dated 1938 by Marshal Voroshilovin and officially unveiled a year later.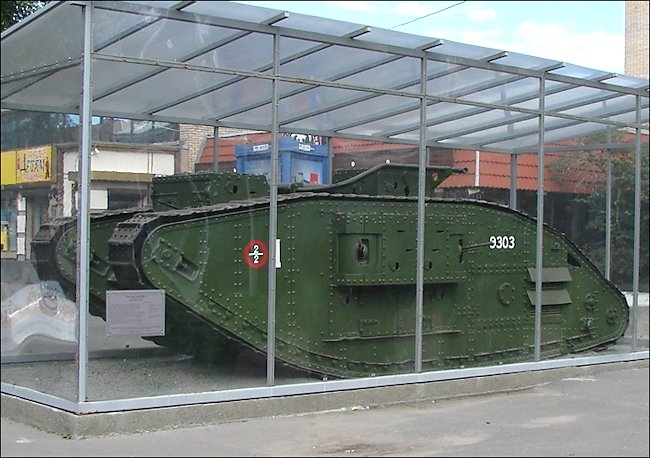 Under its new cover the WW1 Red Army Mark V Female Tank in Severodvinsk, Arkhangelsk (Archangel) in North West Russia
Civil War tank books