The StuG III Ausf. D Assualt Gun
This German StuG III Sturmgeschütz Ausf. D Tank Destroyer Sd.Kfz.142 is kept at the Swedish Tank Museum (www.Arsenalen.se) near Stockholm. It is a very rare vehicle. There are only three left. This is the most intact example.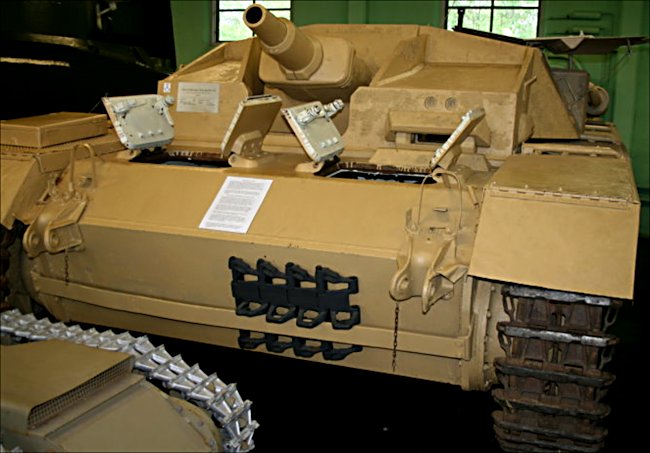 German StuG III Ausf. D at the Arsenalen Tank Museum Sweden
It is currently in storage and can only be viewed by special request on weekdays. This is a shame as I believe it is the only original example left of the model Ausf D. There is one that is half embedded in concrete as part of the Volokolamsk Highway Monument, Volokolamsk, Moscow Oblast, Russia. A third is being rebuilt from a wrecked chassis in Kent, UK.
This StuG III Ausf. D was purchased from Norway after WW2, for evaluation. The Germans used their obsolete vehicles in a policing role in occupied countries. The Germans in Norway surrendered without destroying their weapons when the war ended. Sweden took the opportunity to get it's hands on German military technology to see if it could help in its own tank development program.
The German Army in WW1 realised that they needed a weapon that could provided direct fire infantry support to remove enemy fortifications, artillery emplacements and machine gun posts. The Germans only produced twenty A7V heavy tanks during WW1. This was not enough. The German LK II light tanks were not built in enough quantities to see active service before the war ended.
The German Colonel Erich von Manstein submitted a report in 1935 proposing that assault artillery units Sturmartillerie should be established to provide direct fire armoured infantry support. This was very much along the lines of the British Infantry tank role, except the Germans did not waste their main battle tanks on performing this function.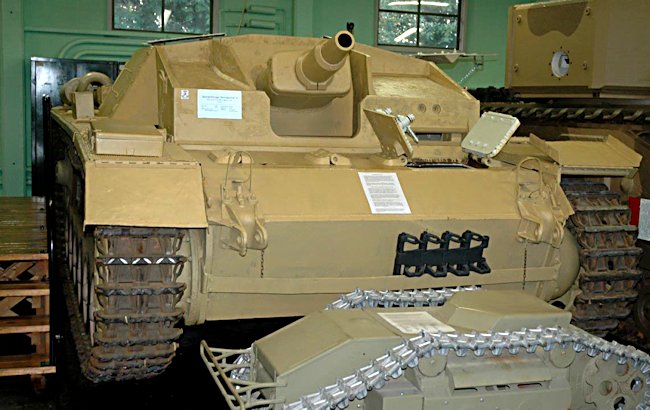 German StuG III Ausf. D Sturmgeschütz Assault Gun
In 1936 Damiler-Benz AG were given the job of producing an armoured self propelled assault gun that could mount the short barreled low velocity 75 mm StuK 37 L/24 gun that could fire high explosive HE rounds at enemy infantry, soft skinned targets as well as gun emplacements. They had to be able fire armour piercing AP rounds. The crew had to be housed inside the vehicle that had overhead protection. It also had to have a low profile.
Damiler-Benz had been producing Panzer MarK III tanks so rather than go through the expense of designing a new chassis they used what was currently in production as a basis of the new vehicle. The assault gun versions of this new armoured vehicle became known as StuG III Ausführung (version) A to E. They were a lot easier and cheaper to produce than the Panzer MkIII tank.
Where can I find other preserved Sturmgeschütz III's?
StuG III - Canadian War Museum, Ottawa, Canada
StuG III Ausf. B - Victory Park, Moscow Russia
StuG III Ausf. D - Swedish Tank Museum Arsenalen
StuG III Ausf. D - Volokolamsk Highway Monument, Volokolamsk, Moscow Oblast, Russia
StuG III Ausf. E - Motor Technica Museum, Bad Oeynhausen, Germany
StuG III 40 Ausf. F/8 - Tank Museum in Kubinka, Russia
StuG III 40 Ausf. F/8 - Kalemegdan Military Museum, Belgrade, Serbia
StuG III 40 Ausf. F/8 - 2x Wheatcroft Collection, UK
StuG III 40 Ausf. F/8 - Bastogne Barracks, Belgium
StuG III Ausf. G - Forsvarsmuseet Oslo storage, Trandum, Norway
StuG III Ausf. G - Sotamuseo, Helsinki, Finland
StuG III Ausf. G - 3x Finnish Armour Museum, Parola, Finland
StuG III Ausf. G - 4x Finnish Armour Museum Storage Area, Parola, Finland
StuG III Ausf. G - 3x Finnish Armour Brigade's Garrison, Parola, Finland
StuG III Ausf. G - Military Museum, Sotamuseo, Helsinki, Finland
StuG III Ausf. G - Maasotakoulu, Lappeenranta, Finland
StuG III Ausf. G - Savon Prikaati garrison, Mikkeli, Finland
StuG III Ausf. G - Garrison area in Hiukkavaara, Oulu, Finland
StuG III Ausf. G - Kuljetusvarikko, Tampere, Finland
StuG III Ausf. G - Artillery Museum, Hämeenlinna, Finland
StuG III Ausf. G - Karjalan Prikaati garrison, Vekaranjärvi, Finland
StuG III Ausf. G - Panssarivarikko, Ilveskallio, Finland
StuG III Ausf. G - Ivalo, Finland
StuG III Ausf. G - Hamina, Finland
StuG III Ausf. G - 2x National Military History Museum, Sofia, Bulgaria
StuG III Ausf. G - French Tank Museum, Saumur, France
StuG III Ausf. G - Auto and Technik Museum, Sinsheim, Germany
StuG III Ausf. G - Deutsches Panzermuseum Munster, Germany
StuG III Ausf. G - Wehrtechnische Studiensammlung Museum, Koblenz, Germany
StuG III Ausf. G - Artillerie Schule, Idar Oberstein, Germany
StuG III Ausf. G - Panzermuseum, Thun, Switzerland
StuG III Ausf. G - Museo di guerra per la pace Diego de Henriquez, Trieste, Italy
StuG III Ausf. G - Castiglion Fiorentino, Italy
StuG III Ausf. G - Yad la-Shiryon, Latrun, Israel
StuG III Ausf. G - Tank Museum in Kubinka, Russia
StuG III Ausf. G - Saratov, Saratov Oblast, Russia
StuG III Ausf. G - Stalin Line Museum, Zaslavl, Minsk Voblast, Belarus
StuG III Ausf. G - National Uprising Museum, Banska Bystrica, Slovakia
StuG III Ausf. G - Estonian Military Museum, Estonia
StuG III Ausf. G - El Goloso Museum, Spain
StuG III Ausf. G - 2x Museo de Artillería, Cartagena, Spain
StuG III Ausf. G - Centro de Mantenimiento de Sistemas Acorazados n°2, Segovia, Spain
StuG III Ausf. G - Imperial War Museum Duxford, UK
StuG III Ausf. G - Tank Museum, Bovington, UK
StuG III Ausf. G - The Weald Foundation, UK
StuG III Ausf. G - Military Vehicle Technology Foundation, USA
StuG III Ausf. G - 2x Patton Museum, USA
StuG III Ausf. G - The Collings Foundation, Stow, MA, USA
StuG III Ausf. G - National Armor and Cavalry Museum, Fort Benning, GA, USA
StuG III Ausf. G (Finnish) - Deutsches Panzermuseum Munster, Germany
StuG III Ausf. G (Finnish) - Wheatcroft Collection, UK
StuG III Ausf. G (Finnish) - Wheatcroft Collection, UK
Source - Pierre-Oliver Buan - http://the.shadock.free.fr/Surviving_Panzers.html
WW2 tank books