Bayeux M4A1(75) Sherman Tank
The M4 Sherman tank was the most numerous tank used by the Allies for the D-Day invasion of Normandy on 6th June 1944. There were lots of different versions.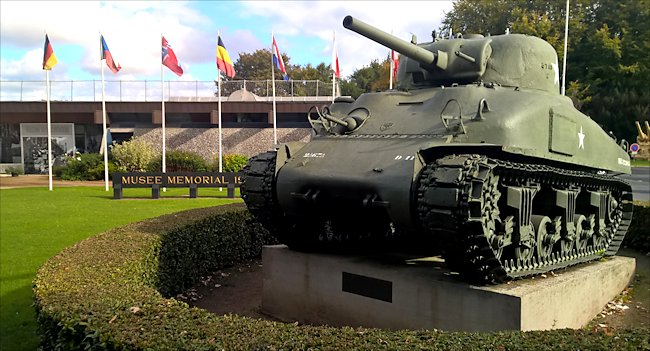 M4A1(75) Sherman tank outside the Bayeux Memorial Museum of the Battle of Normandy
Location
The four tanks at the Bayeux Memorial Museum of the Battle of Normandy are exhibited outside the Museum near the car park. The British and Commonwealth Cemetery is on the other side of the road. It holds the graves of 4,000 men. Both the Military Cemetery and the Museum are on the road called Boulevard Fabian Ware in Bayeux.
This road is part of the ring road around Bayeux that was built by the British Royal Engineers in June to enable the troops, tanks and supply vehicles to get to the battlefront quickly and avoid having to struggle through the narrow streets of the city of Bayeux. Be aware that the museum closes for lunch. You can still see the tanks as they are outside even if the museum is closed.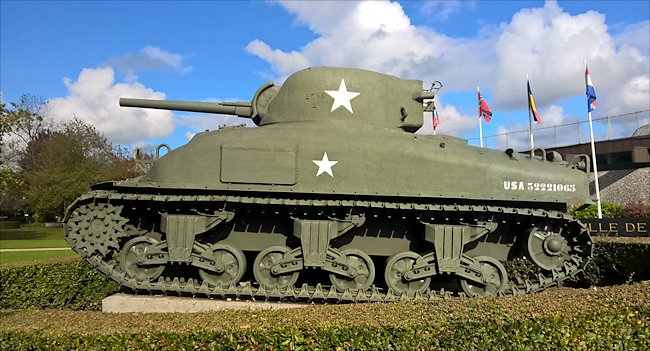 M4A1(75) Sherman tank outside the Musee de la Bataille de Normandie
Specification
The M4A1 Sherman Tank was powered by a petrol Continental R975 C1 9 cylinder radial engine that produced 400 hp. It had a top road speed of 30 mph (48 km/h). It had an operational range of around 120 miles (193 km) The tank had a crew of five, commander, driver, gunner, loader and co-driver/machine gunner.
Its armour thickness ranged for 25 mm to 75 mm. It was armed with the standard 75 mm M3 L/40 gun and two 30-06 Browning machine guns, one in the hull and the other next to the main gun in the turret.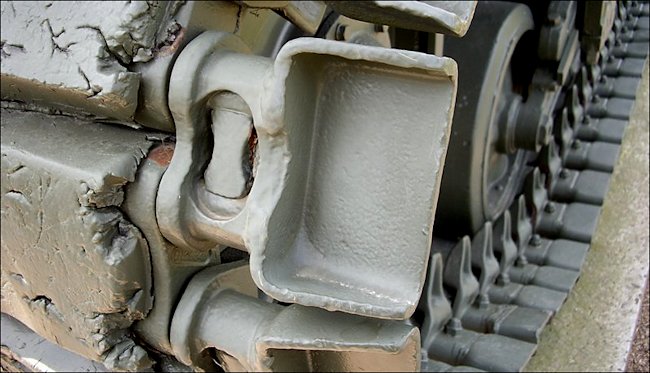 Sherman tank track extensions called 'duckbills' to help cross muddy or snow covered ground.
What is unusual about this M4A1 Sherman tank is that it has 'duckbill' extensions fitted to the track. These widened the track to increase the surface area and help the tank cross waterlogged muddy or snow covered fields and tracks. It helped stop the tank sinking down into the mud and snow by spreading out the load. German tanks also used track extensions. The coaxial and hull machineguns fitted to this tank are replica weapons. Notice that it has an additional rectangular plate of armour welded onto both sides of the tank. This was to help increase the armour protection for the driver and co-driver positions.
The British normally deployed three Sherman tanks armed with the standard 75mm gun with a Sherman Firefly tank fitted with the more powerful 17pdr gun in a troop. The Firefly would be able to deal with any Panther or Tiger tank they came across. The standard 75mm tank gun could not penetrate the frontal armour of the German Army's Panther or Tiger tank. There is a plaque by the tank that says, 'M4A1 Sherman Tank given to honour the sacrifices of the past that have provided hope for the future. Presented by H.Q. VII Corps US Army'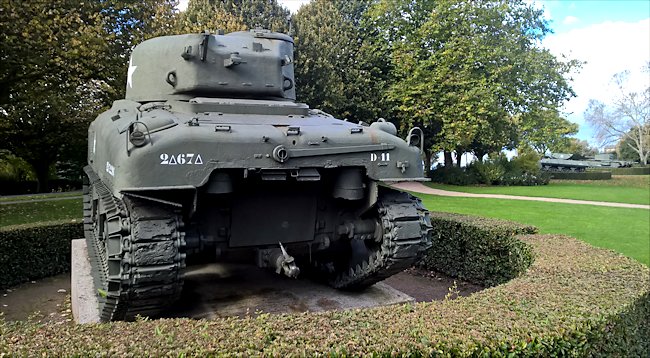 M4A1(75) Sherman tank
D-Day 1944 books