Sentinel AC1 Cruiser Mk.1 Australian WW2 Tank
The Sentinel tank was a cruiser tank designed in Australia in World War Il in response to the war in Europe, and to the threat of Japan expanding the war to the Pacific or even a feared Japanese invasion of Australia. The letters AC in the name of the tank stand for Australian Cruiser tank.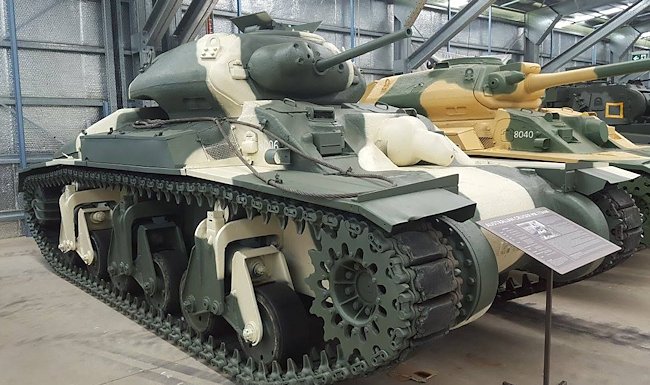 Preserved RAAC Sentinel AC1 Cruiser Mk.1 Australian WW2 Tank in the Australian Armour and Artillery Museum
Location
The Australian Armour and Artillery Museum can be found at 1145 Kamerunga Road, Cairns, Queensland, Australia
Specifications
The tank was armed with a British QF 2pdr tank gun. It also had two .303 (7.7 mm) Vickers machine guns with 4,250 rounds. The tank had a crew of four: commander, driver, gunner and loader. They were protected by 65 mm of armour on the front hull and 45 mm on the sides and rear. The front of the turret armour was 65 mm thick and the sides and rear were also 65 mm thick.
The Sentinel was powered by three Cadillac V8 330 HP petrol gasoline engine mounted two abreast, and one centrally behind them. The tank had a maximum road speed of 35 mph (60 km/h) and had an operational range of around 150 miles (300 km) before the crew needed to refuel the tank. It weighed 28 tonnes. It was 20 ft 9 in (6.32m) long and 9 ft 7/8th inches (2.77 m) wide. It was 8 feet 4 3/4 inches tall (2.56 m).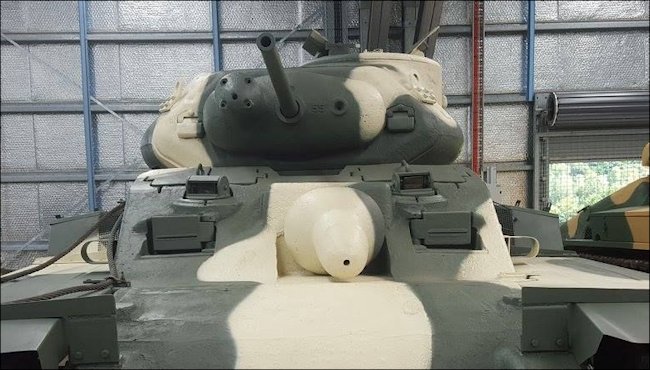 The tank was armed with a British QF 2pdr tank gun. It also had two .303 (7.7 mm) Vickers machine guns with 4,250 rounds.
It was the first tank to be built with a hull cast as a Single piece, and the only tank to be produced in quantity in Australia. The few Sentinels that were built never saw action as Australia's armoured divisions had been equipped by that time with British and American tanks.
This tank is owned by the computer tank wargaming company that is responsible for the popular World of Tanks game. The company is called Wargaming Asia. It is on permanent loan to the museum after being returned to Australia in December 2015 after having been rescued from its 10 year stay in the open air in Camp Mabry Museum, Austin, Texas, USA. Prior to that it was used after the war as an agricultural tractor but was purchased and reassembled at the Melbourne Tank Museum using the hull of AC1 8006 and the turret of AC1 8040.
Sentinel AC1 Version
The Australian Cruiser tank Mark 1 (AC l) began as a 2 pounder gun-equipped design in November 1940 and was designated 'Sentinel' in February 1942. Fabrication was by Sydney's Chullora Tank Assembly Shops with serial production vehicles emerging in August 1942.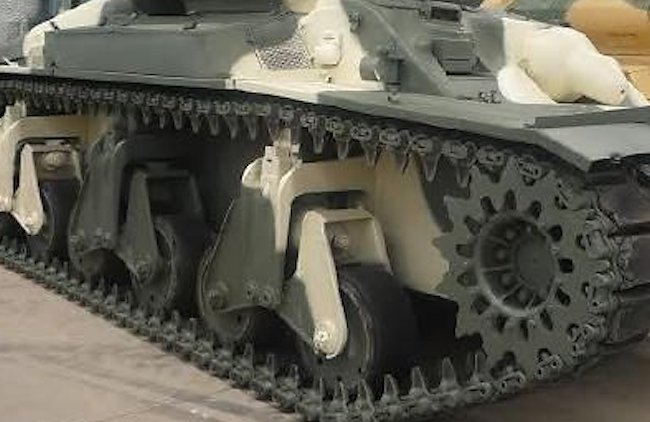 The RAAC Sentinel AC1 Cruiser Mk.1 Australian Tank had Horizontal Volute Spring suspension
The design used existing parts where available from other tank designs, simplified where necessary to match the machining capacity present in Australia. The hull was cast as a single piece, as was the turret; a technique not used on the hull of any other tanks of the era.
Two Vickers machine guns were to be carried as secondary armament, one in the hull and a second mounted coaxially beside the main gun. The preferred engines suitable to power a 28 tonne tank, a Pratt and Whitney Wasp single row petrol radial, or a Guiberson diesel radial, were not available within Australia, so the Sentinel was powered by the combined output of three Cadillac 346 in (5.7 L) VB petrol car engines installed in clover-leaf configuration (two engines side-by-side to the front and a single to the rear: all three feeding a common gearbox).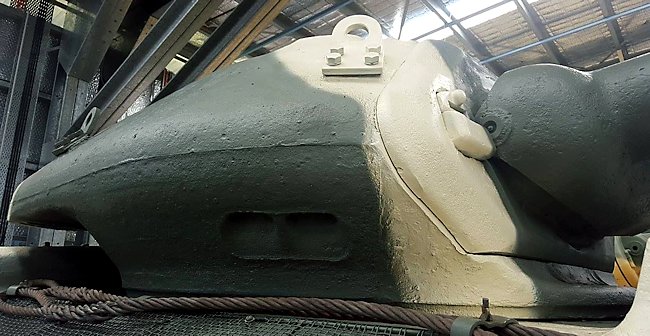 The Sentinel AC1 had a cast slopped turret which was stronger than than flat sided riveted turrets.
Sentinel AC II Version
In July 1941 it was decided to go ahead with a new design that was designated AC Il using available truck components (engines and drives). It soon became apparent they were not powerful enough to cope with a vehicle heavier than 16-18 tons. In September 1941 the AC Il design was abandoned and attention was once more given to the AC l.
Sentinel AC III Version
The Sentinel was to be succeeded by the AC Ill, a much improved design with better armour protection, and most importantly increased firepower with the 25 pounder gun-howitzer This was quickly redesigned as a tank gun. One pilot model AC Ill had been completed and work had started on producing 25 tanks for trials when the program was terminated.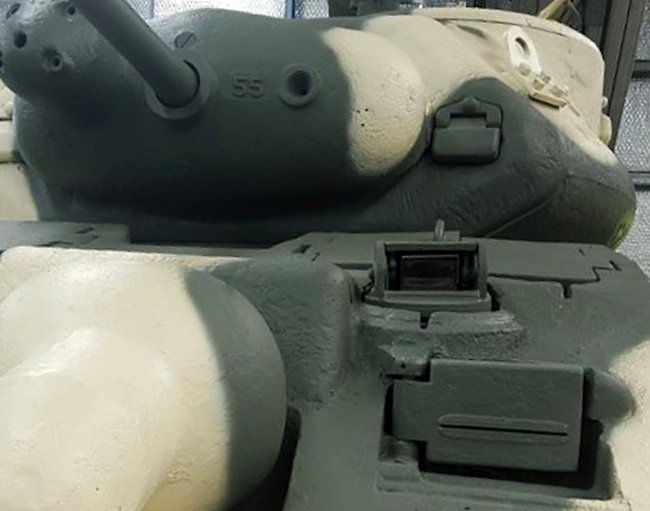 Sentinel AC1 Mk.1 Australian Cruiser Tank
Sentinel AC IV Version
In an effort to further improve the firepower of the Australian produced tanks, a turret was developed and mounted on one of the earlier development vehicles to assess the vehicle's ability to mount the foremost Allied anti-tank gun of the day — the British 17 pounder.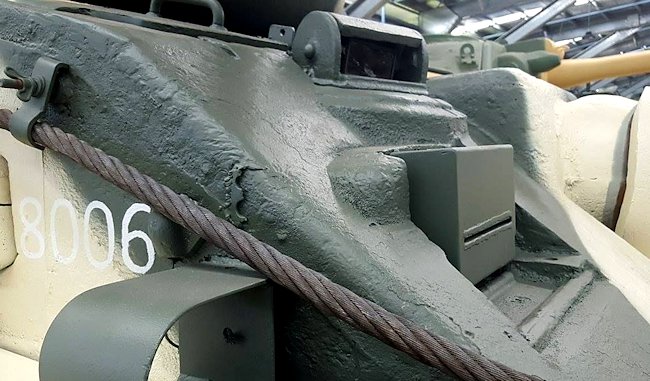 Armoured vision slits and periscope.
In total sixty-five AC production vehicles had been completed by June 1943 The completed Sentinel tanks were used for evaluation purposes only and were not issued to operational armoured units. The AC tank program was terminated in July 1943 with the government of the day believing it better for Australia to put the effort towards building railway locomotives and supporting the large number of US tanks due to arrive. The tanks that had been produced were placed in storage until the end of the war.
Where can I find other preserved Sentinel Tanks?
4x Australian War Memorial, Canberra, Australia
The Tank Museum, Bovington, England
Puckapunyal Tank Museum
2x Australian Armour and Artillery Museum, Cairns, Queensland, Australia
Private Ownership, South East Queensland, Australia
Source - Pierre-Oliver Buan - http://the.shadock.free.fr/Surviving_Panzers.html
Read more accounts in this book.