Sherman Mk V Crab Flail Tank
This preserved Sherman Mk V Crab was a mine—clearing flail tank deployed with the British 79th Armoured Division (Hobart's Funnies) 30th Armoured Brigade, 22nd Battalion Westminster Dragoons. After the battle of Overloon the tank was used in the Northern Limburg province of the Netherlands, but it was put out of action by a German Panzerfaust infantry hand held anti-tank weapon near Broekhuizen.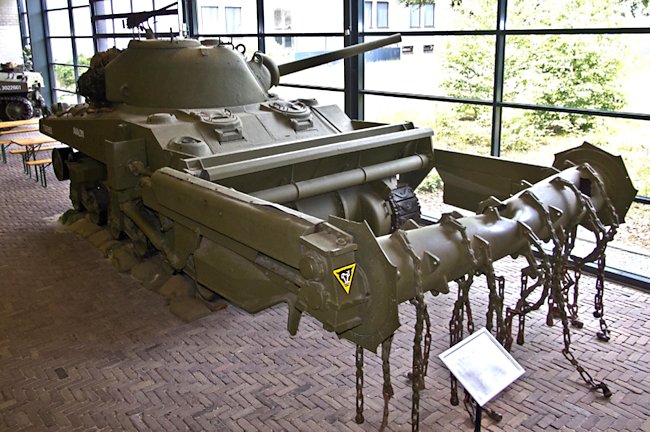 Preserved Sherman Mk V Crab Flail Mine Clearing Tank of the 22nd Battalion Westminster Dragoons.
Location
This Sherman Crab tank can be found at the Overloon War Museum, (Oorlogsmuseum), Museumpark 1, 5825 AM, Overloon, Netherlands (Holland). There website is www.oorlogsmuseum.nl/en. The nearest airport is Dusseldorf airport at Weeze (NRN) in Germany.
Specifications
The British designation for this variant of the Sherman was the Mk V. The American's called it the Sherman M4A4 tank. It weighed 32.5 tonnes and was armed with the standard 75mm cannon. A .30-06 Browning machine gun was mounted in the next to the main gun and a .50 cal Browning M2HB machine gun was fitted to the roof of the turret. Its maximum road speed was 24 mph (40 km/h) although when the mine clearing flail arm was in use it could only move at around 4 mph (6.5 km/h).
The main difference between a Sherman M4A4 compared with other variants of the Sherman tank is that it had a lengthened welded hull which caused a larger spacing between the bogies than on all the other Sherman versions. The front of hull was a 3-piece differential housing rather than being a one piece unit.
There are normally large Lifting rings attached to the front of the hull on rectangular bases. and was fitted with a Petrol Chrysler Multibank A57 5x6 cylinder inline engine. Records show that 7,499 standard M4A4 Sherman tanks were produced by Chrysler at the Detroit Tank Arsenal between July 1942 and November 1943.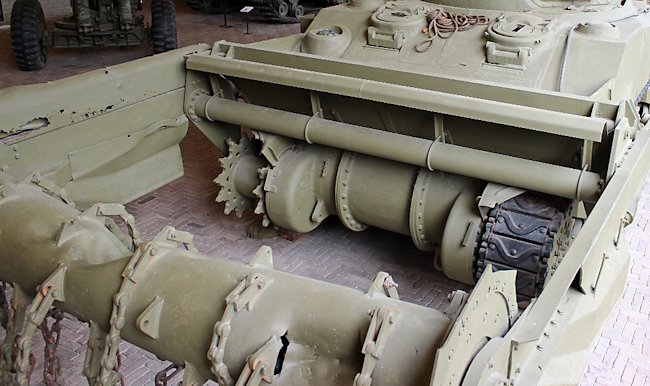 British Sherman Crab Flail Mine Clearing Tank at the National War and Resistance Museum, Overloon, Netherlands.
During World War Two the flail offered an effective solution to clearing safe paths through minefields. The cylinder at the front has chains attached to it and was turned by the tank's engine. When the cylinder turned, these chains struck the ground with a force of more than 150kg and set off any mines. Cutting edges on the ends of the cylinder cut through barbed wire which the chains pulled up.
When clearing mines, tanks operated in teams of five: three tanks flailing; two in reserve. The flailing tanks advanced in a dead straight line at 2 mph, clearing a broad path through the mines. Moving at this speed made them an easy target for enemy guns. The tanks were unable to use their guns whilst flailing, so the reserve tanks gave supporting fire. If a flailing tank was knocked-out a reserve tank took its place.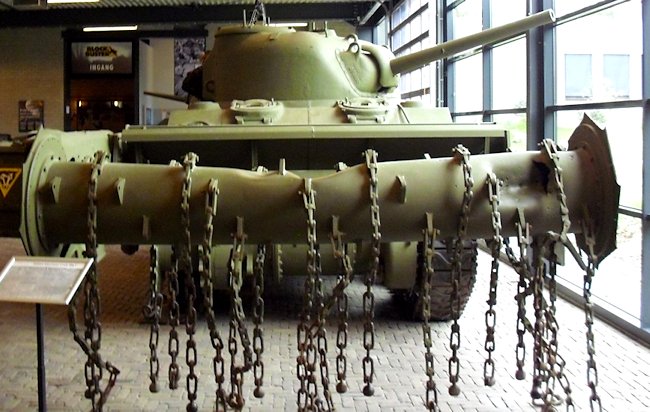 British Sherman Crab tank flail arm extensions
1st Troop, B Squadron, 22nd Dragoons May 1945
On 2nd May 1945 B Squadron, 22nd Dragoons had the task of supporting the 5th Cameron Highlanders in an advance on the far side of Bremervorde. We were told that the end of hostilities was in sight and to proceed without taking any risks. Coming towards us along the sides of the road was an endless stream of dejected refugees, including many members of the Wehrmacht bent on surrender. They shuffled past us apprehensively, cowed by the show of strength as we sprayed woods and hedges with Browning fire, and possibly, by our strange looking Sherman Crab machines.
At a road fork just before the village of Glinde, 1st Troop took the left-hand road with Sergeant Jock Stirling in front of me On the right of the road and my tank on the left. His gunner, Trooper Taylor, fired at, and knocked out a German self-propelled gun ahead, but just after reporting this, Jock was killed by an HE shell bursting on his cupola, and Taylor by an armour piercing shell through the turret itself, both fired by a second self-propelled gun further down the road.
More AP was fired and whizzed over my head as Basil Frost automatically reversed on hearing from Jock's operator that they had been hit. We responded by firing mixed smoke, armour-piercing and HE shot though no target was visible down the road ahead. We hoped the barrage would have some effect. A Bren carrier that had been following closely behind us suddenly found itself being pushed backwards along the road, until Bas turned our tank off the dike-like road into a farm entrance. One farewell enemy self-propelled gun shot clipped the top of a telegraph pole and brought it crashing on top of me in a right tangle of wires.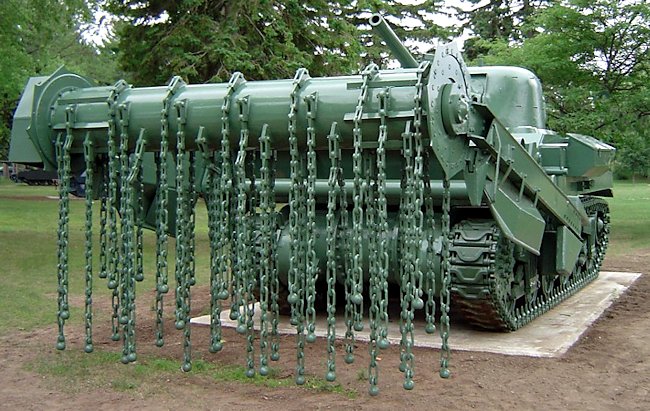 British Sherman Crab Flail Mine Clearing Tank at the Borden Military Museum, Ontario, Canada
As I extricated myself, Alan Walkden, Jock's operator, and his driver, Basil Carlick, both of whom were unharmed, ran back to me, I sent them back down the road to Squadron HQ where they were put straight away on a truck which took them back to base.
Movement off the road was extremely restricted as the street was on top of a dike with deep ditches either side, but we found a way round to the right which took us through a small wood to a farm already occupied by the Jocks. As I was discussing our next move with the Company Commander, we saw a German amphibious Volkswagen driving fast along the road past the farm towards our infantry.
There was the rattle of Bren fire, and a few minutes later an extremely surprised German officer with his driver appeared with their hands up in front of a grinning Scotsman, followed by the Volkswagen being driven by a British soldier. The German had no idea the advance had reached as far as it had. The two of them joined a batch of prisoners being held in the farmhouse cellar.
I moved the Troop up to the far side of the farm buildings and we prepared to give covering fire to the Infantry who were determined to find the second German self-propelled gun. The Company commander, wielding a walking stick, led his men forward as we fired into hedges and another farm ahead.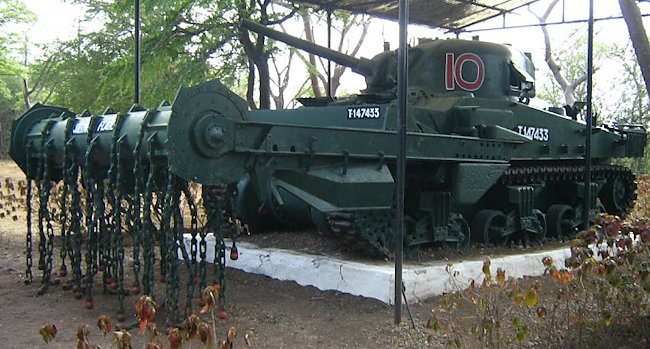 British Sherman Crab Flail Mine Clearing Tank at the Armoured Corps Museum, Ahmednagar Maharashtra, India
One of my tanks was under a spreading tree alongside and a few yards to the rear of mine as he fired a high explosive HE shell. Unfortunately, the shell struck a branch as it left the 75's barrel and exploded close to my left ear. I was thoroughly deaf for several weeks afterwards, fortunately my earphones had given me some protection from the blast.
The infantry reported with satisfaction that they had knocked out an self-propelled gun with the PIAT, and as the day drew to a close we were pulled back into Glinde to await further developments. For the next few days we were in a state of constant readiness as long columns of prisoners and refugees streamed past us towards Bremervorde. We had our first view of an ME 262 jet plane overhead which dropped what turned out to be a long-range fuel tank, but in the evening of May 4 we heard on the BBC news that the Germans had surrendered and that hostilities had ceased.
In a few minutes the sky was filled with every conceivable missile, from revolver shots to Verey lights, Bofors to Bren, a fantastic firework display. It was quite dangerous but not as dangerous in German eyes, apparently, as the sight of the Regimental Pipe Band of one of the Highlander Regiments dressed in full ceremonials of kilts, sporrans, plaids, white spats and cockaded bearskins marching. The Devils brides. This extract was taken from Captain Ian. C Hammerton's book "Achtung Minen - The making of a Flail Tank Troop Commander" order your copy today to read more of his exploits.
Where can I find other preserved Sherman Crab Flail Tanks?
M4A4(75) Crab - National War and Resistance Museum, Overloon, Netherlands, Holland
M4A4(75) Crab - The Tank Museum, Bovington, England
M4A4(75) Crab - Westkapelle, Netherlands, Holland
M4A4(75) Crab - Yad la-Shiryon Museum, Latrun, Israel
M4A4(75) Crab - Armoured Corps Museum, Ahmednagar Maharashtra, India
M4A4(75) Crab - MCEME Parade Grounds, RSI Institute, Alwal, India
M4A4(75) Crab - Pakistan Army Museum, Rawalpindi, Pakistan
M4A4(75) Crab - Canadian Forces Base, Borden Military Museum, Borden, Canada
Source - Pierre-Oliver Buan - http://the.shadock.free.fr/Surviving_Panzers.html
Read more accounts in this book.